Figure friendly…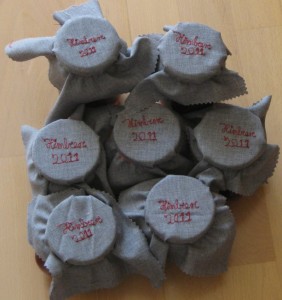 … ist die diesjährige Marmeladeproduktion.
… is this years jam production.
Mehr ist es nämlich nicht.
Da es im Frühjahr einige Wochen so trocken war sind die Brombeeren auf dem Brachgelände komplett am Strauch vertrocknet. Und unsere Himbeeren im Garten haben wir zwar gegossen, aber der Rest des Sommers war ja so kalt und sonnenarm, daß die auch keine rechte Lust hatten zu wachsen.
Because that is all.
The wild blackberries we normally pick are all dried on the bush since it was very dry for several weeks in spring. And the raspberries in our garden were watered, but the missed warmth and sun the rest of the summer so they did not feel like growing to much.
Die "Deckelchenschoner" sind natürlich wieder selber bestickt, immerhin verbraucht das wieder ein paar Stoffreste. (Und nein, meine Handschrift wird nicht schöner.)
At least the "lid protectors" were embroidered by me, used up some scraps. (No, my handwriting hasn't improved since last year…)