Confiture season isn't over yet….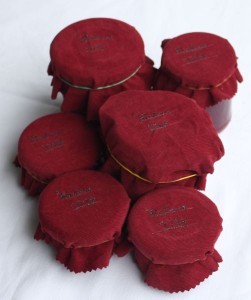 Zumindest was die "Endversorgung" der Gläser betrifft.
At least as far as the "finish" of the jars is concerned.
Für die Himbeermarmelade habe ich diesmal dünnen Cord genommen. Ich dachte, die Rippen würden als "Zeilen" zum Schreiben ausreichen, aber man sieht sie doch beim Sticken nicht gut genug, weil sie recht eng beieinander liegen. Also habe ich mit dem Prym Minenstift dann doch die Schreibzeilen vorgemalt. Gestickt habe ich  (in frei geführter Stickerei) mit einem dunkelgrünen und einem dunkelbraunen Faden Sulky Stickgarn.
For the covers of our raspberry jam I've choosen a thin corduroy fabric. I had thought the ribs would be enough as marked lines for writing, but they are so close together that I could not really distinguish them while stitiching. So finally I marked my lines again with the Prym marker. "Writing" was done as free motion embroidery with a dark green and a brown thread by Sulky.
Und auch hier sind die Deckelchen jetzt rund, weil das mit dem Clover 5-in-1 Sliding Gauge so einfach geht. (Und da ich mehrere auf ein größeres Stück Stoff vorzeichnen kann und dann nacheinander einspannen und "wegschreiben" geht es sogar schneller, als vorher, wo ich immer eckige Stücke irgendwie und ohne zu messen ausgeschnitten und einzeln eingespannt habe.)
And again my jar covers ar circles because that is so easy with the Clover 5-in-1 Sliding Gauge. (It is even faster than before, when I had been cutting random rectangles from remnant fabric and embroidered them one by one. With my pre drawing of the circles I can just move the embroidery hoop and do several in a row, cutting them all in the end.)