Hot chain mail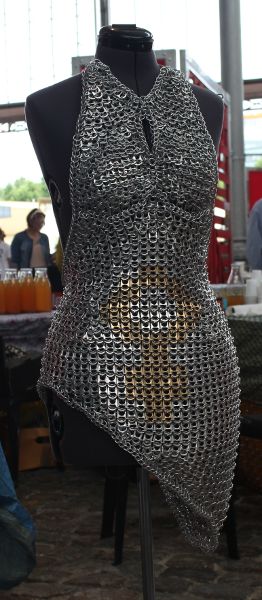 Vielleicht nicht absolut alltagstauglich, aber definitiv heiß fand ich dieses Kleid. Zu sehen war es bei einer Aktion im Parc de la Villette in Paris. Es war nicht ganz klar, zu welcher Aktion es genau gehörte, ich vermute aber Débrouille, denn die zeigten an ihrem Stand andere Werke aus dem gleichen Material.
Maybe not for everyday wear but absolutely hot is this special neckholder dress. I've spotted it at a event at Parc de la Villette in Paris. It was not completly clear to which booth it belonged, but I suppose Débrouille, because they were showing other items from the same material.
Die Besonderheit zeigt sich, wenn man näher hin geht. Das Kleid ist aus den kleinen Ösen zusammengesetzt, mit denen man Getränkedosen öffnet. Da muß man erst mal drauf kommen. Das moderne Kettenhemd, sozusagen.

What is special becomes evident when you are getting closer. The dress was pieced together from the small rings you find on beverage cans. Pretty smart idea.  Kind of a modern chain mail.