Selfcleaning camera sleeve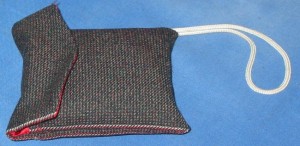 Eine neue kleinere Digicam ist bei uns eingezogen. Und da ich mir nicht noch mal das Display zerkratzen will wie bei der letzten brauchte sie eine Hülle.
We have a new digicam and since I do not want scratches on the display as it happen with the last one I made a sleeve.
Genäht ganz simpel aus einem Rest Anzugstoff aus Wolle, der schön stabil ist und eine unempfindliche Farbe hat.
Den schmalen hellen Rand von der Nahtzugabe habe ich absichtlich sichtbar stehen gelassen, weil ich das nett fand.
Sewing was very simple, I*ve used a remenant of a woolen suit fabric that is stabile and has a color that will not get dirty easily.
The fine clear stripe on the edge is a part of the selvage which I liked to be visible since the whole design is so simple.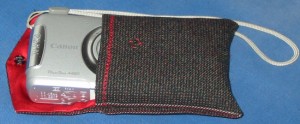 Aber der wirklich interessante Teil ist eigentlich das Innenleben.
Hier habe ich weiche Seide von einer Bluse verwendet.
Und Seide… reinigt Display und Gehäuse gleich automatisch von Fingertapsern wenn man die Camera reinschiebt und rausholt.

But the really interesting part is the lining.
I've used soft silk from a blouse.
And silk…. cleans away fingerprints from display and body of the camera automaticly when you put the camera in or pull it out.