… und das kann auch ein Seestern sein.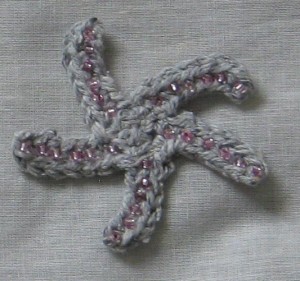 … and it can be a sea star also.

Ich kämpfe ja mit meinen Wollresten und wenn dann mal nur noch drei Meter da sind, wird es schon schwierig.
I am fighting my yarn scraps and rest overs and if a scrap is only 3 meters it is getting difficult.
Aber für diesen Minirest von "Scotch Tweed" von katia kam die Anleitung Crochet Sea Star von Leah Coccari-Swift auf ravelry gerade recht. Und als er fertig gehäkelt war fand ich, er wollte noch ein paar etwas größere rosa Roccailles. Süß, oder? (Ne, keine Ahnung, was ich damit mache…)
But for this scrap of katia "Scotch Tweed" the pattern Crochet Sea Star by Leah Coccari-Swift on ravelry was just perfect. And after weaving in the threads I decided that it wanted to be beaded with some small cute pink beads. Isn't it cute?`(No, I have no idea what I am going to do with it…)