And the raspberry confiture also…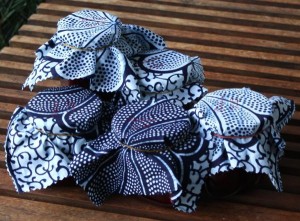 Und nur wenige Tage später, habe ich es dann auch geschafft, die Himbeermarmelade zu versorgen. (Tja, mehr war dieses Jahr nicht…)
And only a few days later I managed to finish the raspberry confiture also. (Well, that was all we had this year…)
Die Stickerei kann man auf dem Stoff nicht wirklich gut lesen, aber es geht ja hauptsächlich darum, die verschiedenen Sorten und Jahrgänge im Lager im Keller auf einen Blick gut unterscheiden zu können. Und dazu ist der Stoff gut.
The embroidery isn't really well visible on the fabric, but the main purpose is that you can see at a glance which kind of confiture and from which year it is when it is stored in the cellar. And that the fabric will do.
Ich hätte ja lieber was mit rot genommen (blau nahm ich bislang eher für die Brombeermarmelade), aber offensichtlich habe ich in den letzten Jahren nur noch blau genäht, deswegen gibt es keine roten Rest.
I would have preferred to take something red (because usually I took blue for the blackberry confiture), but seems I did only sew blue in the last years, so there are no red remnants left.
(Ja, ich weiß, ein völlig unweihnachtliches Thema… aber bis zu nächsten Sommer wollte ich es dann auch nicht liegen lassen.)
(Yes, I know, the topic is not at all Christmay, New Year or even winter related… but I didn't want to keep it back until next summer.)