Key Fish
Es kommt ja selten vor, aber gelegentlich wird meine Resteverwertung auch direkt weiterverarbeitet und verschenkt.
It is rare, but sometimes my using up remnants get there final destination right away.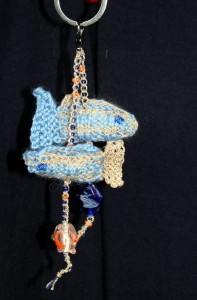 Ich hatte sowohl von "Joey's Baby Silk" von Queensland Collection ein paar Meter übrig, also auch von "Dream" von Tahki Yarns. Zusammengenommen reichte das noch für zwei winzige Fische nach der Anleitung Baby Fish von Ellen Diamond.
I had some few meters left from Joey's Baby Silk" by Queensland Collection and "Dream" by Tahki Yarns. Taking that together it was just enough for two tiny Baby Fish after the pattern by Ellen Diamond.
Und da eine Freundin mit Vorliebe fürs Maritime Geburtstag hatte, wurde mit etwas Makramee, einigen Perlen und AlterfilS35 in blau ein Schlüsselanhänger draus. (Das Alterfil sieht man zwar kaum, es hat aber im wahrsten Sinne des Wortes die tragende Rolle. Als "Kern" der Makrameeknoten trägt es die Perlen und sorgt dafür, daß der Anhänger nicht gleich reißt, wenn man ihn das erste Mal aus der Hosentasche zieht. 😉 ) Und verschenkt ist er auch schon…
Also the birthday of a friend of mine was approaching, a friend who likes maritime motives and fish. So I added some Makramee and beads and AlterfilS35 in blue and voilà… we have a key ring. (The AlterfilS is hardly visible, but it is actually the most important part. It is the base of the makramee, carries beads and fish and gives the stability needed. So not everything will tear apart the first time you pull the key ring from your jeans pockets. 😉 ) And the gift was recieved with pleasure…