Thinking not finished before doing…
Ein Schlafanzug braucht ja nicht nur ein Oberteil (also das hier), sondern auch eine Hose. Diesmal wollte ich keine Leggings, sondern eine etwas weitere Hose und dachte, dazu könnte ich doch mal eben schnell meinen Leggingsblock abwandeln.
My sleepwear top (this one) needed some bottoms also. I did not want tight leggings but a kind of pants that were not wide, but a bit more relaxed. So I thought I could make some quick adaptions to my legging block.
Also einmal auf der gedachten Seitennaht der Länge nach durchgeschnitten, 3cm Weite (pro Bein) eingefügt, die Saumweite an der inneren Beinnaht auch auf jeder Seite um 5cm verbreitert und dann ab dem Knie auf die neue Saumweite runter gezeichnet.
So I cut it down lenghtwise at the position where the side seam would be if it had one and added 3 cm width. I also added 5cm to each side of the hem at the inner leg seam and went down from the knee to the new hemline.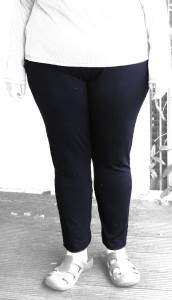 Das Ergebnis… ist eine Schlafanzughose, aber definitiv nicht, was ich wollte. Das liegt teilweise an meinem Stoff, der viel weicher ist als der von der Leggings und gar keinen Stand hat. Aber auch meine Schnittänderung paßt so nicht. Zunächst sind 3cm Weite pro Seite offensichtlich zu wenig. Dann sollte man nicht erst vom Knie auf die neue Saumweite sondern hätte das auch schon ab der Mitte des Oberschenkels machen sollen. (Und vielleicht mehr als 5cm nehmen sollen… wobei die Saumweite das ist, was noch am ehesten paßt.) Aber was völlig anders ist, als ich das wollte… und wo ich durchaus hätte drauf kommen können, wenn ich vorher nachgedacht hätte… der Schritt bleibt natürlich so eng wie bei der Leggings, wenn ich die Schrittkurve nicht ändere…
The result is… sleepwear but not what I intended. Okay, partially that is due to my fabric which is soft and clingy and very different from the interlock I had used for my leggings. But also my pattern alterations were not good to create the effect I had in mind. 3cm width was not enough. Then I should not have started my new inner leg sem on the knee but somwhere mid.thigh. (And maybe a bit more than 5cm, but the new hem width is probably that is closest to what I had in mind.) But the thing that is really not what I had wanted… and which would have been completely evident if I had thought about it before… the crotch is still a very tight legging crotch if you don't alter that…

Na gut, beim nächsten Mal zeichne ich vielleicht einfach gleich einen neuen Block.
Okay, next time I'll better draw a new block.