Noro at hands
Daß das Noro Kureyon Sockengarn für Socken nicht wirklich geeignet ist habe ich ja schon rausgefunden. Dieses Socken sind nämlich nach nur wenigen Wäschen so stark eingegangen, daß sie inzwischen Kinderfüße wärmen. Und Handwäsche für Socken ist definitv keine Alternative.
They may call it Noro Kureyon sockyarn, but it is not really suitable for socks. These socks did shrink so much after a few washes that they now are warming the feet of a child. And washing socks by hand is definitely not something that will happen here.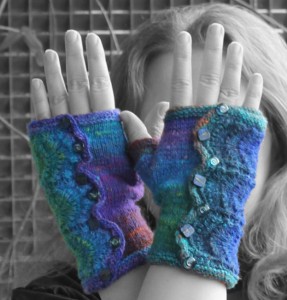 Nun hatte ich aber noch ein Knäuel aus der Bestellung damals bei WollArt und als in der Deep Fall Knitty die Anleitung für die Spatterdash Wristwarmers auftauchte war klar, was ich damit machen würde.
But there was one skein left from what I had ordered by WollArt. And when I saw the patter for Spatterdash Wristwarmers in Knitty Deep Fall I knew what I would make of it.
Ich habe Größe M gestrickt, Nadeln 1,75 verwendet und statt sie zu knöpfen wie die Anleitung es vorsieht, habe ich sie zugenäht und nur einige wenige Knöpfe blind aufgesetzt. Da ich mich bei Plissee Becker zwischen den vielen schönen Knöpfen nicht entscheiden konnte, habe ich zwei verschiedene Sorten genommen und abwechselnd aufgenäht.
I used needles 1,75mm and made size M. I decided against buttoning them as the pattern says, I sewed them close and added the buttons as decoration. Less than the pattern calls for. And since I could not decide which to take at the huge choice of Plissee Becker I took two different ones and sewed them on alternately.
Sie tragen sich wunderbar und sind wirklich kuschelig warm. Die innere Seite des Umschlags rollt ein wenig, da sind zwei Maschen Breite für das Perlmuster ein bißchen wenig. Aber wenn man sie an hat, dann stört das nicht mehr.
The wristwarmers are super warm and wear great. The "underflap" tends to roll a bit, besides the two stitches large seed stitch border, 3 stitches might have been better. But once they are on, it's okay.
Farblich habe ich noch nicht ganz verstanden, was das Prinzip von Noro ist. Außen war das Knäuel mittelblaublau mit braunrot, gestrickt sind sie zur Hälfte grün. (die Handflächen sieht man auf dem Photo nicht). Also ob die Regel lautet "was außen am Knäuel zu sehen ist, sind die Farben die du nicht bekommst" oder "egal was außen am Knäuel zu sehen ist, innen kommt grün", das weiß ich nicht. Da ich aber vermutlich kein drittes Knäuel davon kaufen werde, werde ich das nie erfahren….
What I could not figure out so far is what the rule for the colors of Noro is. This skein was mostly blue and a bit of brown-red from the outside. But the knitted wristwarmers are about halfway green and turquoise (the palms are not visible on the pic, so most of the green is hidden.) So the rule might be "Whatever you see on the outside of the skein is what you will not get." or "Whatever you see on the outside, what you will get will be green." Since I don't think I will buy a third skein of that Noro I'll never know….