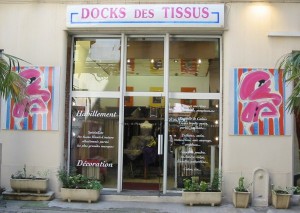 There is one Souvenir I brought you from my last holiday in France…
If you ever come to Toulouse (which you should do, because Toulouse is such a beautiful and interesting city that is worth a visit) then you should absolutely visit that that fabric store.
It's not the place for impulsive shopping, because the offers are precious, some of them from Haute Couture Collection. From heavily embroidered and beaded silk chiffon over woolen crepe for suits to fine knits in merino wool. But also quality Polyester prints and novelty fabrics. (Unlike the Germans the French in general have few prejudice against artificial fibers, as long as they are fashionable… 😉
The fabric hang rainbowlike along the walls, so even looking at them is a pleasure. (And also imperative, because they ask you not to touch the often delicate fibers if you do not seriously consider to buy them.)
Only fair enough, because the price range from 40 EUR/m and up. No limits..
But even if you do not intend to buy anything, just seeing is a pleasure worth a small detour in that a little hidden yard.
Address: 22. Rue Lafayette, 31000 Toulouse