Hand and Foot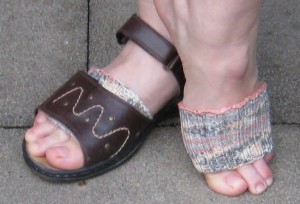 Nachdem ich schon zwei paar "Fußschoner" aus dem Knäuel herausgestrickt hatte war immer noch was übrig. Also habe ich für meine "Ärgersandelen" noch geschwind zwei "Sandalensocken" genadelt.
After two pairs of "footlings" from that ball of yarn there was still some yarn left. So I made a quick pair of sandal liners.
Die Anleitung? Ganz einfach: 52 Maschen auf dem Nadelspiel anschlagen, zur Runde schließen und 33 Runden im Rippenmuster (2 rechts, 2 links) stricken. Nadelstärke war bei mir 2 mm, wer weniger locker strickt nimmt eher 2,5 mm. Locker abketten. Das dürfte für die meisten Frauenfüße passen.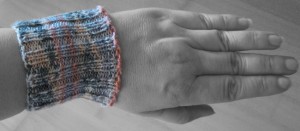 Instructions? Easy: Cast-On 52 on dpns, close to round, knit 33 rounds in 2-2 ribbing. Bind of loosely. I took needlesize 2mm, whoknitsless loosely takes 2,5mm. Should fit most womens feet.
Und wenn im Herbst keine Sandalen mehr angesagt sind…. dann taugen sie auch als Pulswärmer.

And when the season for sandals is over… no problem thy make wristlets in autumn and winter.