Christmas is Coming Closer…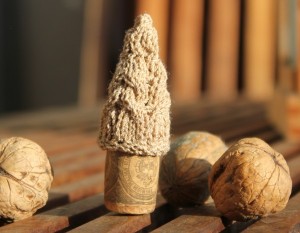 … was nutzloses Stricken geradezu herausfordert.
… so a great time for completly useless knitting.
Von meinen Spitzenhandschuhen (äh… habe ich die schon gezeigt?) waren immer noch einige Meter übrig. Daher gibt es ein Winzbäumchen auf einem Korken.
After my lace mits (did I show them…?) some meters of yarn were left. So I made a tiny tree which sits on a cork.
Gefunden habe ich die Anleitung wie oft über ravelry und es ist Pint Sized Pines in a Cork Forest von Julie Tarsha, das Garn ist "Dream" von Tahki Yarns. Leider hat es nicht für einen weiteren Baum gereicht, ein Wald wird das also nicht.
I've found the pattern via ravelry and it's Pint Sized Pines in a Cork Forest by Julie Tarsha. The yarn is "Dream" by Tahki Yarns. What is left now isn't enough for another tree. I wont have a forest.