Pre-Christmas overview: December 2017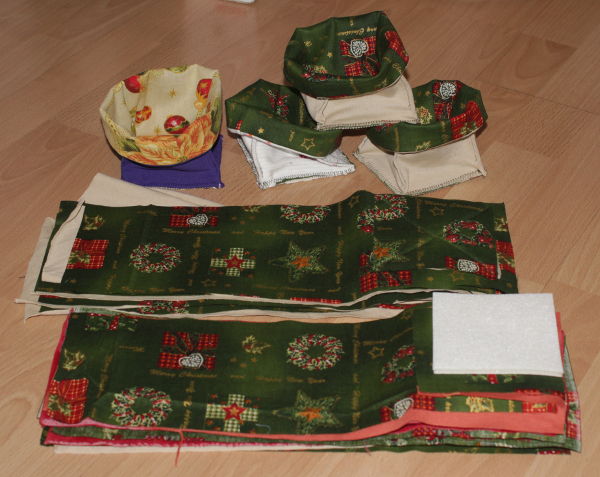 Das Nähen steht nicht überraschend im Zeichen von Weihnachten. Die Kekse die ich so an Kollegen und so verschenke gibt es dieses Jahr in kleinen Utensilos. Davon habe ich vier fertig, elf sind noch zu machen und von den vier fertiggestellten gehen drei morgen schon wieder weg. Wie ich das mit den restlichen rechtzeitig schaffen soll weiß ich noch nicht so recht, denn ich brauche die natürlich nicht erst an Weihnachten, sondern schon vorher…
My sewing is Christmas-related which is probably not a big surprise. I usually give some home made cookies to colleagues and friends and this year they will be arranged in little sewn boxes. Four are done, eleven more to go and I do not really know how to make that in time. Three of the finished ones will be gone by tomorrow and the rest well not be needed on Christmas day but before….
Immerhin habe ich es geschafft, mal eine Näherei zu finden, bei der ich einen Teil meiner Jerseyreste verwenden kann. Der Boden ist mit Bosal In-R-Form verstärkt, die Seiten stehen von selber.
At least I managed to create a project where I can use a part of my knit and jersey remnants. The bottom of the boxes is interfaced with Bosal I-R-Form, the sides keep up by themselves.
Die Weihnachtssocken für meinen Bruder sind schon fertig, die letzten Obdachlosensocken auch. Das nächste Projekt sollen mal wieder Stulpen werden, hier habe ich immerhin das Garn (AslanTrends "DEL CERRO") gewickelt und passende Stricknadeln gesucht. Das war es dann aber auch.
The Christmas socks for my youngest brother are already finished, also all socks I did for the socks for the homeless campaign. The next project will be fingerless mitts. The yarn ("DEL CERRO" by AslanTrends) came in a hank, now it's a ball. But that's all I did so far.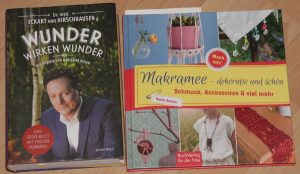 Nicht viel besser sieht es auf meinem Nachttisch aus… Herr von Hirschhausen hat bisher kein Glück, ich schaffe Zeitschriften zu lesen, das Buch kommt irgendwie nie dran, bis die nächsten Zeitschrift geliefert ist. Dafür gibt es auch wieder Rezensionsexemplare… hier ein neues Lehrwerk zum Thema Makramee. Die Modelle sind sehr anders, als ich das mal gelernt habe. Also interesssant.
Books on my nightstand do not do better… I did not get even one page further on the book, because I hardly manage to read the magazines. And once I am finished usually the next magazine is already there. But I got new craft books for a review on the  Hobbyschneiderin24 Website. This one is about Makremee. The projects have quite a different style from what I learned in the early 1980s, so it's interesting.