Stitchmeow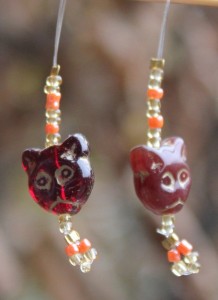 Seit ich öfter nach englischen/amerikanischen Anleitungen stricke ist auch mein Bedarf an Maschenmarkieren gewachsen. Ich halte sie nach wie vor für in den meisten Fällen entbehrlich, aber wenn die Anleitungen so beschrieben sind, ist es einfacher, sie zu verwenden.
Und es macht Spaß, jeweils welche passend zum Strickstück zu basteln… 😉
I am knitting more often English/American pattern and so I need stitch markers now. I still think that one can do perfectly well without, but since the pattern descriptions are made for stitch markers it's easier to use som.
And it's a lot of fun to make some matching the yarn. 😉