Rib-later-socks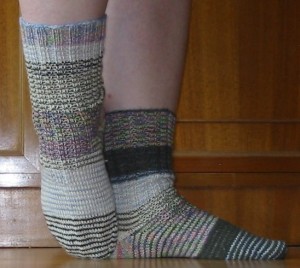 Weiter geht es mit den Restesocken…
Rippen ermöglichen ja, daß die Socke sich dem Fuß gut anpasst. Dafür ist es flach bequemer.
Also fangen die Rippen hier erst irgendwo auf dem Fuß an und werden immer mehr, bis die Socke rundherum gerippt ist.
(Ganz einfach und es verhindert zu viel Langeweile beim Stricken…)
More socks…
The nice thing about ribbing on socks is, that the sock can adapt better to the shape of the foot. On the other hand plain is mor comfortable to the skin.
So here the ribs start somewhere on the middle of the foot and become more until they run all around.
(Easy, but prevents too much boredom while knitting… )