The pose of a winner…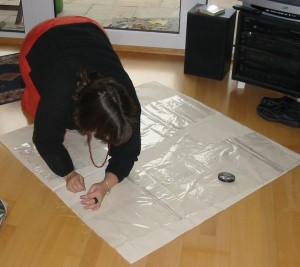 Ja, so sieht das aus, wenn man einen Tag mit mir im Adventskalender der Hobbyschneiderin gewinnt. Ab auf die Knie…
Well that's what you look, if you win a day with me in the adventcalender of the Hobbyschneiderin. Down on your knees…
Aber natürlich gab es einen guten Grund dafür. Petra hatte einen Tag mit meinen "helfenden Händen" gewonnen und sie hätte gerne einen passenden Hosenschnitt. Also sind wir systematisch vorgegangen, haben einen klassischen Standardschnitt von McCall's kopiert, in der Länge angepasst und hier wird er gerade sorgfältig mit allen Hilfslinien und Markierungen auf Nessel übertragen. Denn da Petra schon einige Versuche mit nicht passenden Schnitten hinter sich hat, war klar, daß es eher große Änderungen sein werden und da kommt man mit einem Nesselmodell trotz aller Mühe die es macht letztlich am schnellsten ans Ziel.
But of course there was a good reason for it. Petra had wanted to win a day with my "helping hands" and was drawn the winner. We decided that a pattern for fitting trousers were what she needed most. As she already has some experience with not fitting patterns (and is petite) it was clear that the pattern (from McCall's) would need major alterations and we decided to work systematically. So making a muslin and therefor transfering all seamlines, notches, grainlines,… to the fabric was imperativ.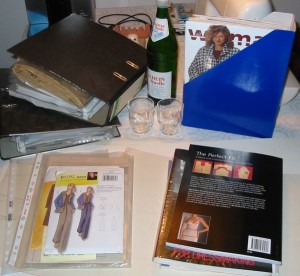 Normalerweise macht man so was ja lieber auf einem Tisch, aber zum einen ist mein Eßtisch zu klein, zum anderen war er schon voll mit all den anderen Dingen, die wir so brauchten.
Normally you would prefer doing that on a table, but our dining table is to small. Also it was already cluttered with all the things we needed that day.
Petra ist übrigens eine talentierte Filzerin und hat mir eine coole Filzseife (ich wußte gar nicht, daß es so etwas gibt) und eine wunderschöne, grüne Filzschale mitgebracht. Da sie ein Photo in ihrem Blog hat, muß ich die Schale nicht noch mal photographieren. Sie gefällt mir wirklich gut, ich glaube, sie wird perfekt in das Pariser Appartment passen, wo ja noch ein wenig Deko fehlt. (Selbst mein Mann gab bei dem Anblick übrigens spontan Gefallen ausdrückende Laute von sich, das ist eher selten!)
Petra is a gifted felter and she had cool gifts for me, like a felt soap (I did not even know that exists!) and a beautiful green bowl. She put a pic on her blog so I don't have to photograph it. I really like it a lot and I think it will fit perfectly in our Paris appartment that still lacks a bit of decoration. (Even my husband made spontaneously affirmative sounds when he saw it. And that is a rare thing!)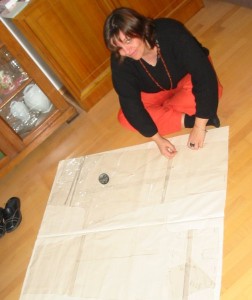 Und wie man hier sieht, so ganz unglücklich sieht Petra auch nicht aus. Sie überlegt sogar, öfter zu unserem kleinen Donnerstagsnähkränzchen zu kommen…
(Zu meiner Ehrenrettung sei gesagt: Den Schnitt habe ich kopiert, ebenso auf Knien rutschend. *aua*)
And as you can see, she does not look completely unhappy. She even considers to become a regular on our little Thursday-Sewing-Meeting….
(For my rehabilitation I may add, that it had been me who had traced tha pattern on the plastic sheet. In the same "on my knees" posture. *ouch* )