Christmas socks with deer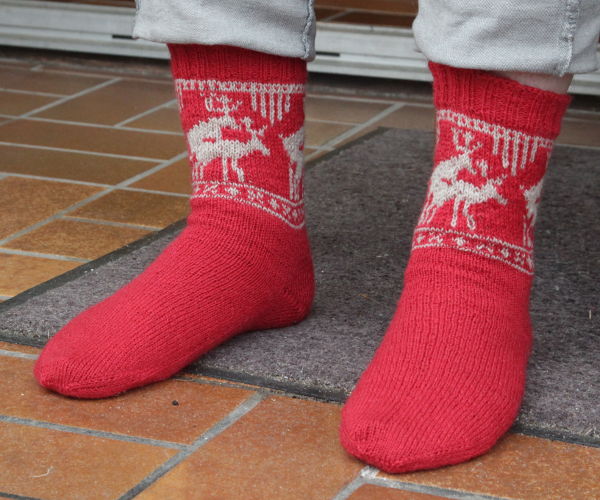 Dieses Jahr konnte ich die Weihnachtssocken für meinen Bruder dann auch mal an den richtigen Füßen photographieren. Deswegen passen sie auch.
This year I could photograph my brother's Christmas socks on the "right" feet, so they have the right size.
Das Garn ist von Lidl, bei Ravelry als "Anika" von Crelando gelistet. Eigentlich hatte ich die Packung ja gekauft, weil ich mal für mich rote Socken wollte… tja, war wohl nichts, zu dem Muster musste es dann einfach rot sein.
The yarn is "Anika" by Crelando. I had purchased that package because I wanted red socks for myself… well, not this time. But for this pattern it had to be red.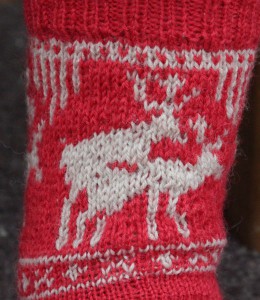 Das Muster ist Fornicating Deer Chart von Anne Rutten, mit ein paar freien Improvisationen drüber und drunter. Der Rest zwischen den Viechern ist, damit die Spannfäden nicht so lange werden. (Und das Muster ist eine Nahaufnahme wert, oder? 😉 )
The pattern is Fornicating Deer Chart by Anne Rutten, with some simple improvisations above and below. The rest between the animals are stitches to prevent too long pieces of yarn hanging at the back side. (And the pattern is worth a close up, isn't it? 😉 )
Mein Bruder hat jedenfalls beschlossen, die Socken mit hochgekrempelter Hose zu tragen.
My brother decided that those socks need the jeans turned up at the bottom.