Now Home…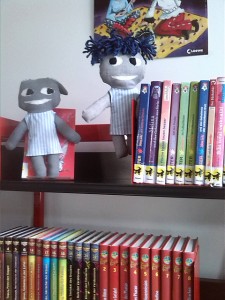 … für meine grauen Freunde.
… for my gray friends.
Die sind nämlich nach Niedersachsen gezogen und wohnen jetzt in Quakenbrück, in der Bibliothek der Samtgemeinde Artland.
They've moved to Lower Saxonia and live now in Quakenbrück, in the library of the  Samtgemeinde Artland.
Ich würde sagen, sie sehen so aus, als würden sie sich dort sehr wohl fühlen. 🙂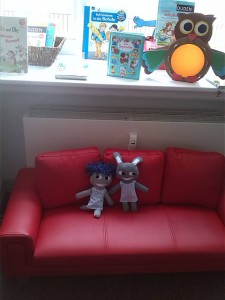 I'd say they look as if they would belong there. 🙂
Und ich bekam dafür von der lieben Sabine Sockenwolle mit Baumwollanteil. Da bin ich nämlich etwas "aufgebraucht".
And I got sock wool with cotton from Sabine in return. That is something my stash is a little low.
(Die Bilder sind übrigens auch von Sabine, danke dafür!)
(The pics are also from Sabine, thank you for that!)