… gehört natürlich ins Nähkästchen.
(Falls sich jemand wundert, daß so lange Pause war, mich hat ein Virus kräftig flachgelegt. Zum Nähen bin ich immer noch nicht fit genug, aber ich kann immerhin über ein paar Sachen posten, die ich vorher gemacht habe.)
Car polish belongs to the sewing equipment…
(In case you were wondering why I didn't post anything for quite a long time: I cought a virus and lay flat for a good week. I'm not fit enough to work or sew but I can at least post about the thinks I did before I was knocked out.)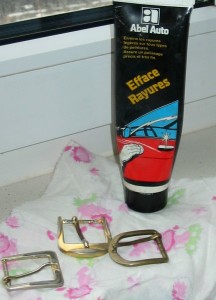 Ja doch, ich nähe noch. Nur in kleinen Schritten.
Aber ich bin gerade an einer Tasche für den bereits verflossenen Geburtstag einer lieben Freundin. 'hüstel*
Und natürlich braucht die Tasche einen Schulterriemen und der sollte verstellbar sein. Perfekt dazu eigenen sich Gürtelschnallen. Da in der Regel die Gürtel kaputt gehen, die Schnallen aber nicht, habe ich da auch einige in meinem Vorrat. Nur sehen die nicht mehr so schön aus, sie sind ja gebraucht.
Yes, I'm still sewing a bit. I'm making a bag for a dear friend for her birthday which was some time in january…
The bag needs a strap and she wants it adjustable. A belt buckle is perfect for that task. And since the buckles tend to last much longer than the belts I do have a nice collection of buckles. Only they do not look so great after years of use.
Nun gut, Metall kann man problemlos polieren, Chrom, Messing, Silber… für alles gibt es die passenden Politur. Der Haken ist nur, daß man zum einen in der Regel nicht weiß, aus was die Schnallen sind und vor allem, daß diese in der Regel auf der Oberfläche irgendwie beschichtet sind. Und die Beschichtung oder auch Lacke will man in der Regel nicht abrubbeln.
Also hilft statt Metallpolitur die Autopolitur und dazu natürlich ein weicher Baumwollappen.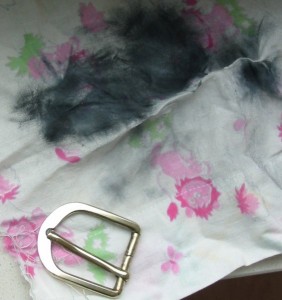 Man muß trotzdem vorsichtig polieren und immer gucken, ob nicht was abgeht, was man behalten will. Aber nach ein bißchen rubbeln habe ich jetzt eine glänzende Gürtelschnalle, die ich wieder verwenden kann.
Gut für die Umwelt, weil sie nicht weggeworfen wird und gut für den Geldbeutel, weil ich keine neue kaufen muß. 🙂 Und meine Vorräte haben sich etwas verringert…
Of course it's not a problem to polish metal, there are all kinds of polishes for all kinds of metal. The problem is only that you normally don't know what material you have and, even more important, usually the metal is coated in some way and you do normally not want to rub that of.
So car polish, a soft piece of cloth and a bit of time… (And care, because even car polish can take away something you want to keep, so always check what you are doing.)

And I have a shiny buckle that can be used again. God for the environment because I don't have to throw it on the garbage and good for my money also, because I don't have to buy something new. 🙂 Plus stash reduction..,