…oder alle meine Babygeschenke sind grün.;)
Penguins on the prairie or all my babygifts are green. 😉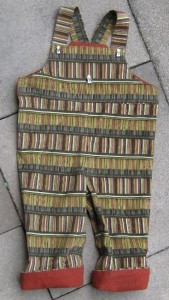 Auch diese Latzhose habe ich 2007 schon mal genäht. Und auch damals schon aus dem gleichen Stoff. Wobei der Stoff jetzt nicht ein Rest von damals ist, sondern ein später dazu gekommenes Stück. Der  Schnitt ist aber wieder Nummer 140 aus der Burda 10/2005.
Also for those overalls I had already made them in the past. And even in 2007 I had used the same fabric. But this piece was not a remnant of the first project but another piece that came later in my stash. The pattern is again 140 from Burda 10/2005.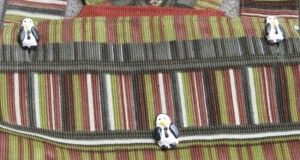 Ein paar Änderungen gibt es aber: Ich habe die Belege aus einem Rest braunen Canvas gemacht, die Taschen habe ich weggelassen und die seitlichen Öffnungen werden mit Druckknöpfen geschlossen. Dafür gibt es an den Trägern diese entzückenden Punguinknöpfe, die von Jim Knopf sein müßten.
I made some changes: The facings I made in a brown canvas fabric and I did not make the pockets. The side openings are closed by snaps and the straps are held by those cute penguin buttons which come from Jim Knopf, if I remember correctly.
Dann ab zur Post, denn das Kind ist schon ein paar Monate auf der Welt und die Hose verläßt Deutschland.
Now mailing it soon. The child was already born last year and the overalls will leave Germany.