Clutch of Decadence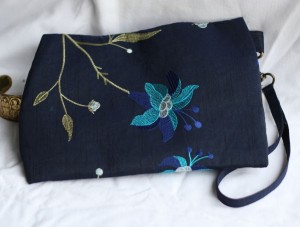 Die Clutch aus der Threads läßt mich ja nicht los. Diesmal brauchte ich allerdings tatsächlich eine weitere kleine Tasche.
I can't get over this clutch after Threads Magazine. But this time I really needed the bag.
Zur Hochzeit meines Bruders hatte ich mir ja ein dunkelblaues Kleid genäht. Und mich damals schon mit einer improvisierten Tasche durchgemogelt. Das war bei der Hochzeit nicht so schlimm, weil die in einem Privathaus statt fand, wir ein Auto im Hof stehen hatten und auch nicht so viele Leute da waren. Ich konnte also meine (Wert)Sachen auch woanders sicher unterbringen. Diesmal ging es aber zum Ball anlässlich des 350jährigen Jubiläums meiner alten Schule und da brauchte ich eine verschließbare Tasche. Dunkelblau ist immer noch eine doofe Farbe, so habe ich wieder keine gefunden. (Oder sie waren mit silber und Strass, was aber nicht zu meinen Sandalen und meinem Schmuck gepaßt hätte.) Davon, daß ich nicht bereit bin dreistellige Euronenbeträge für einen Abend auszugeben mal ganz zu schweigen.
For my brothers wedding I had sewn myself navy dress. And had not been able to find a matching purse, small bag or whatever, so I had to do with something quickly improvised. That was not too bad for the wedding, there were only few people around, it took place in a private house and we had the car next to the house. So it was no problem to store (valuable) items somewhere else. But now I was heading for a ball for the occasion of the 350th anniversary of my old school. So I needed something with a closure. Navy still is a difficult color, so I couldn't find a matching purse or clutch. (Or they were blue or navy with silver and rhinestone, which would not have matched my golden sandals.) Not to talk about the fact that I am not willing to spend more than 100 EUR for one night out!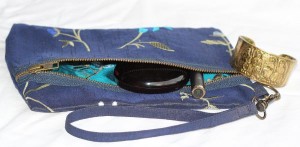 Also habe ich mir bei Marché St. Pierre in Paris in der Abteilung für hochwertige Deko Stoffe einen Rest bestickter Seide aus der Kiste gefischt. Als Reißverschluss habe ich bewußt einen groben (eigentlich teilbaren) Zipper mit dicken Messingzähnen genommen. Und weil ich sonst kein passendes Futter da hatte, habe ich die Tasche einfach mit einer anderen bestickten Seide (nämlich von der Kimonojacke) gefüttert. Etwas dekadent… aber ist ja eine Abendtasche…
So I picked some embroidered decorators silk from the remnants bin at Marché St. Pierre in Paris. For the zipper I chose heavy metallic teeth as a contrast. And then I could not find a matching lining in my stash. And finally ended up with another ebrodered silk… (from this kimono jacket). Kind of decadent… but it's for an elegant occasion…

Jetzt muß ich mir nur noch überlegen, was ich mit der restlichen Seide mache. Bei Dekostoffen ist 1,90m nämlich ein Rest…
Now I have to find a use for the rest of the fabric. Since it was decorators fabric 1.90m was a remnant…