Knit fabrics: pressing hems made easy
Einen habe ich noch… Was ich gerade bei Jerseys immer mühsam fand, war das umbügeln der Saumlinie. Abmessen und Stück für Stück umbügeln. Lästig. Und noch dazu bei einem Kunstfaserjersey, der sich durch das Bügeln nicht gut fixieren läßt. Und an meinem Shirt muß eine Seite des Ausschnittbeleges umgebügelt werden, ein sehr langer Ausschnittbeleg…
I have one more… What I always found painful on knit fabrics was pressing hemlines. Measuring, marking and pressing step by step. Time consuming. Even more on a poly jersey, that will not keep it's form well when pressed. And this top does not only have seams to press but a veeery long neckline facing….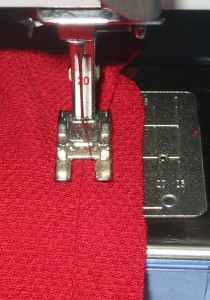 Und so geht es: Das Abmessen überlasse ich der Nähmaschine.
Ich möchte 1,5 cm von der Schnittkante entfernt umbügeln. Also nähe ich eine Naht, 1,5 cm von der Stoffkante entfernt. Markieren muß ich nichts, denn ich habe ja eine entsprechende Markierung auf der Stichplatte.
That's how I go: I let my sewing machine do the measuring and the marking in one step.
Here I want to press a 1,5 cm seam. So I stitch 1,5cm away from the fabric edge with a quite long stitch length. No marking needed, because I already have the marks on my throat plate.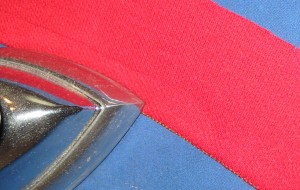 Und damit habe ich nicht nur meinen Saum markiert, der Stoff läßt sich auch verhältnismäßig leicht an der Naht umbügeln.
Und da die Nähmaschine ja gerade näht, ist auch der Saum automatisch grade.
Nach dem Bügeln kann man den Hilfsfaden wieder herausziehen. Oder auch drin lassen, bei einem Jersey wird er früher oder später reißen, auch dann kann man ihn noch rausziehen. 😮
Außerdem funktioniert der Trick nicht nur bei Jersey, sondern auch bei Webstoffen. Und nicht nur bei gerade, sondern auch bei gebogenen Säumen.
Now my hemline is not only marked, it also folds relatively easy along the stitches.
And as the sewing machine sews straight… the hemline is straight also.
After pressing (or after hemming) you can remove the stitches. Or not. In knits it will break anyhow sooner or later, because the stitches are not stretchy. Then you can still remove the thread. 😮
The trick will also work with woven fabrics and also with curvy seamlines.