Skirt inspired by burdastyle september 2013
In der Burda vom September 2013 war dieser Rockschnitt, der mir gleich sehr gut gefiel. Leider war er nicht für meine Größe vorgesehen, ich sah aber und sehe bis heute keinen Grund, diesen Rock nicht auch in Plus Größe zu nähen.
In the september 2013 issue was  this skirt pattern which I liked a lot. Sadly it was not my size but did not (and still can't) see any reason why it should not be done in plus size.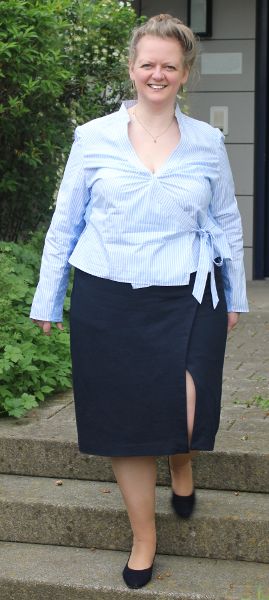 Also habe ich zur Selbsthilfe gegriffen. Ich habe den originalen Schnitt ausgemessen und habe mich in den Längen, also auf welcher Höhe der Schnlitzausschnitt im oberen Rockteil beginnt und wie weit er im unteren Rockteil nach unten geht, an dem Schnitt in der größten Größe orientiert. In der Länge ändert sich da nicht viel und da stimmen meine Maße ja ungefähr mit Burda überein.
So it was time for pattern DIY. I measured the original pattern and for the lengthwise measures, like where the opening starts at the side seam of the upper front and how low the lower front goes down, I took the measurements from the pattern in the biggest size. Length does not change much with the sizes and my body measurements are quite okay with burda in that respect.
Was das Ausmaß der Überlappung und alle Entscheidungen über die Breite der Teile betrifft habe ich mich hingegen an der Position der Abnäher orientiert. Und das ganze dann auf meinen bewährten Standardrockschnitt übertragen.
Regarding the width and how much in that direction the overlap is supposed to be I took the darts as reference points. And then I applied all that on my TNT skirt pattern.
Da mein Rockschnitt für Webstoffe ausgelegt ist, brauchte ich auch keinen Elastic-Jersey, sondern konnte einen alten dunkelblauen Sweatshirtstoff verarbeiten, der wohl auch schon seit 20 Jahren mit mir umgezogen ist. Aber irgendwann kommt für jeden Stoff die Zeit. Außerdem habe ich innen ein normales Futter aus Venezia Futterstoff eingearbeitet. So daß es bis über den Po geht. Das verhindert zum einen das Ausbeulen des Stoffes (Baumwoll-Sweat ohne Elasthan hat nicht viel Rücksprung), zum anderen rutscht der Rock auch besser und es besteht keine Gefahr, daß er unziemlich zu klettern beginnt.
My skirt pattern was made vor non stretch woven fabrics so I did not need elastic knit as the burda pattern suggests but I used a cotton sweat knit that I might be having for aroudn 20 years or even a little more. But there is a time for any fabric. I used Venezia lining but only in the upper part, so that it goes over my buttocks. So the skirt will not go out of shape while wearing there. (A simple cotton sweat fabric has not much elasticity). And the skirt glides better over the body and there is less risk it will ride up.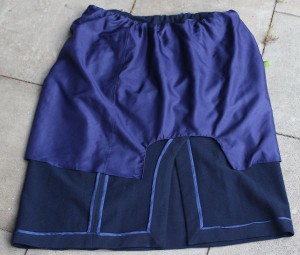 Da der Rock nicht vollständig gefüttert ist, habe ich die Nahtzugaben mit Schrägband aus Pongé Seide eingefasst (Rest von dem Unterkleid zum Abendkleid) und die Schlitzecken als Briefecken gearbeitet.
The skirt is not completly lined, so I made relatively wide Hongkong bindings for the seam allowances and mitered corners for the hem allowance.
Damit der Unterrock nicht vorschaut bekam er einen Ausschnitt. Ich habe den Rock angezogen, dann ein Bein auf einen Stuhl gestellt und mit Nadeln markiert, wo das Futter vorschaute: links, rechts und oben. dann habe ich in jede Richtung noch einen Zentimeter mehr zugegeben und einen weiten Bogen ausgeschnitten. Der wurde dann von Hand rolliert. Was bei Futterstoff nicht ganz so schön geht, wie bei Seide, aber doch die beste Lösung war.
To determine how much of the lining I had to cut out (I do not want it to gape, of course) I put the skirt on, put one foot on a chair and marked with pins where the lining was visible: both sides and the highest point. Then I added another centimeter all around and cut out. the fabric then was handrolles around. Looks better in silk than in lining fabric but still the best choice.
Der Rock gefällt mir und trägt sich gut, durch die überlappenden Stoffschichten geht der Schlitz zwar weit nach oben, die Öffnung ist letztlich aber nicht unangemessen groß. Sehr schöne Designlösung von Burda. 🙂
I like the skirt and it wears well. Since it has two overlapping fronts you have a very high vent which in the end does not open so much. Very nice design solution by Burda. 🙂
Jetzt müssen nur noch die geplante Jacke sowie zwei Shirts dazu fertig werden. Geplant war das ja alles als Frühjahrsoutfit für 2014….
Now I only need to make the jacket and the two tops that are planned to go with. That all was supposed to be a spring outfit for 2014…