Big Pot Holder
Ich besitze ja jede Menge Topflappen in allen möglichen Bauformen. Gekauft, liebevoll handgemacht,… über die Jahre hat sich aber herauskristallisiert, daß ich letztlich am liebsten die gehäkelten aus Baumwolle benutze. Sie sind hitzefester als alle (gekauften oder gemachten) genähten Modelle, man kann sie schnell falten und doppelt nehmen, sie sind problemlos waschbar und dienen im Notfall auch mal schnell als Topfuntersetzer.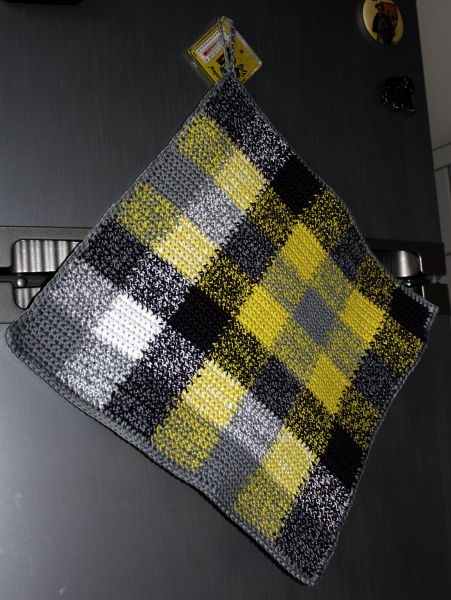 I do own like a zillion pot holders of all kinds. Some store bought, some carefully crafted… but if I look at what I use most often, then its the good old crocheted cotton model. They offer a better heat protection than all sewn ones (no matter if handmade or from a shop), I can fold them over for double protection, easily washable in the machine and can double as table mat to protect surfaces against the heat of a pot.
Dummerweise sind meine Häkeltopflappen aber noch aus meiner Studentenzeit, aus irgendwelchen Resten gehäkelt (die farblich gar nicht in meine Küche passen) und im Laufe der vielen Jahre doch etwas… na sagen wir nicht schöner geworden.
Only problem is, that all my crocheted pot holders still date back to my university time. Made from whatever remnants were around (colors not fitting into my kitchen) and over those many years they are kind of… well they did not gain in beauty.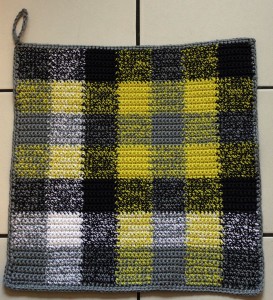 Also habe ich mir einen neuen gehäkelt. Das Garn ist "Camilla" von Woll Butt, das ich doppelt genommen habe. (Auswahlkriterium war die Farbe und daß ich eh bei Buttinette was bestellen mußte…) Karomuster sieht man, die Größe ist mit knapp 35cm Kantenlänge etwas arg groß, ich muß meine Haken dafür höher hängen, damit sie nicht auf den Herd hängen, aber sonst ist das so geworden, wie ich das haben will.
So I've made a new one. Yarn is "Camilla" by Woll Butt (main reason for the choice were the colors and that I did have to order something from Buttinette anyhow…) two strands held together, patter is visible and with 35cm it got a bit larger than intended. I will need to find another attachment over my oven. Otherwise it will in the pots. But in total it turned out the way I had wanted it.
Das wird auch nicht der letzte sein, ich habe noch mehr Garn..
And it won't be the last one, I have more yarn…
(P.S.: Der aktuelle Überblick ist nicht vergesseh, der kommt nur nächste Woche, sonst wäre er nicht aktuell machbar.)
(The up to date overview is not forgotten, but that will have to wait for next week. Otherwise it could not be done up to date.)