Swimming scarf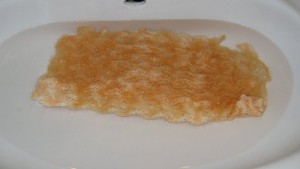 Gut, daß ein leichter Lace-Schal erst mal auf dem Wasser schwimmt und man ihn herunterdrücken muß, damit er sich vor dem Spannen schön vollsaugt, das kenne ich ja schon.
If you put a lace scarf in water to soak it before blocking means normally, that it will not sink quickly by itself. That's no news to me.
Aber daß er auch wieder hochkommt, nachdem ich ihn drei Mal runter gedrückt habe und sogar ein bißchen zusammengedrückt, damit mehr Lift rausgeht und Wasser rein kann… das hatte ich dann auch noch nicht gesehen.
Dieses Cashmere 1 von Artyarns ist schon ein ganz besonderes Material…
But that it comes up floating again after I pushed it three times under water, even squeezing carefully to remove air and give way for the water… that I hadn't seen before.
Cashemere 1 from Artyarns is really a very special Material…