No PiF, but a parcel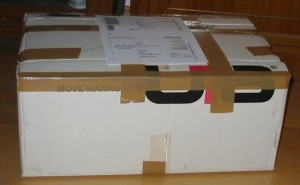 Heute war ich immerhin mal bei Hermes und habe ein dringendes Paket auf die Reise geschickt. Denn es hat einen weiten Weg vor sich.
Beim diesjährigen Hobbyschneiderintreffen im Oktober in Stolberg gibt es natürlich wieder eine Challenge. Diesmal lautet das Stichwort "Recycling".
Und so ging heute gestern ein Paket mit Kleidung auf die Reise in die Oberpfalz (wenn mich meine schwachen Geographiekenntnisse nicht täuschen), von dort nach Hessen und von da wieder zurück in die Oberpfalz (?). Danach darf es nach Baden-Würtemberg, nach Westfahlen und wieder nach Baden-Würtemberg von wo aus es über die Pfalz nach Berlin reist. Von dort geht es zurück ins Rheinland wo es unter anderem bei mir Station machen wird (ich will ja auch mitmachen). Die nächsten Adressen scheint Google zufolge in Niedersachsen zu liegen, bevor es wieder in den Süden geht, nach Franken. Von dort dann über Hessen und Berlin nach Aachen, wo es gleich von vielen Händen befingert wird, bevor es über die Grenze nach Dänemark reist. Und danach wieder zurück nach Deutschland.
Warum tut es das? Nun, jeder fischt sich gebrauchte Kleidung heraus, steckt neue rein und arbeitet das um, was er rausgeholt hat. Erlaubt ist alles. Jede Technik, jedes Ergebnis, vom Eierwärmer bis zum Abendkleid.
Ich bin gespannt, was dabei rauskommt!
Today Yesterday an important parcel started its journey. At our next "Hobbyschneiderin-Treffen" in Stolberg which will be in October, we will, of course, have a Challenge.
This time we will reuse and recycle. So a parcel with used clothes of mine startet its journey, will jump all over Germany, then to Danmark and back to Germany. Each participant picks something from the content and refills it wiht nor longer used clothes of her (or his). And then we'll transform what we picked. We can sew, knit, glue,… we can make garments, bags,… everything is allowed!
And I am so curious to see the results!