Little Helper, part 2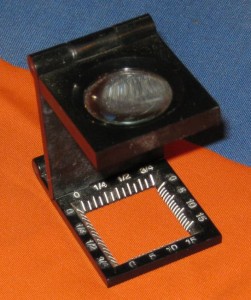 Da ist mir doch gerade noch ein kleiner Helfer durch die Finger gegangen…
I've just used another one of my little helpers.
Mein Fadenzähler sprang mich in Delhi bei einem Optiker für nicht allzuviele Rupien an. Es ist eine einfache Konstruktion, eine starke Lupe und ein "Zählrahmen" mit Millimeter und Inch-Skala, der gleichzeitig als Standfuß dient. Das ganze kann man flach zusammenfalten und die Linse liegt dann geschützt innen.
I've bought this linen tester for not to much rupies at an optician in Delhi. It's a simple construction, a strong magnifying glass on top and a frame with millimeter and inch scale that serves also as stand. You can fold it flat and the lense will be between the other layers and be well protected.
Ursprünglich dazu gedacht, die Dichte von Geweben (oder Teppichen) zu beurteilen, also wie viele Kett- und Schußfäden pro Einheit, leistet mir diese Lupe auch anderweitig gute Dienste.
Hier etwa um festzustellen, welche der beiden so gut wie identisch aussehenden Seiten des Dessoustoffes wohl die rechte sein könnte…
Invented it was to test the density of woven fabrics, but it is useful for other things also. Like examining both nearly identical looking sides of this lingery fabric to find out which is the right side…
Habt ihr eigentlich auch so kleine und nicht teurer Helferlein in eurem Nähkästchen? Dann würde ich gerne davon hören!
Do you also have such small and inexpensive helpers in your sewing case? I'd like to learn to know them!