Amber in Blue
Es liegen ja noch ein paar nicht photographierte bzw. fast fertige Strickwerke hier herum, aber dieses "mußte" zügig abgelichtet werden, weil ich das Bild für meine Buchrezension brauche…
There are some mor finished or nearly finished knits around here but this one needed to be photographed soon, because I also need the pic for the book review.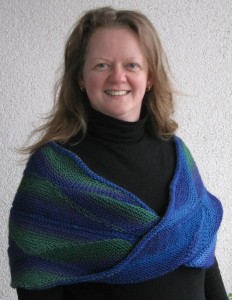 Nachdem inzwischen die ganze Welt einen gestrickt hat, habe nun auch ich meinen Möbius. Das Ergebnis liebe ich, denn er wärmt mich genau da, wo ich es im Winter gerne mag (ohne einen warmen Pulli anziehen zu müssen) und er hält besser seine Position, als ein Tuch. (Ja… Bad Hair Day… sorry…)
I am sure everybody has knit a Moebius so far and finally I did also. I absolutely love the result. It keeps me warm where I like it in winter (without having to wear a warm sweater) and it keeps better in place than a shawl. (Yes, I know, it was Bad Hair Day…)
Die Anleitung ist aus dem Buch Farbenspiel mit verkürzten Reihen von Ruth Kindla, das ich vom BuchVerlag für die Frau aus Leipzig bekommen habe.
The pattern is from a German book, Farbenspiel mit verkürzten Reihen by Ruth Kindla which I got from Buchverlag für die Frau in Leipzig to review it.
Den Anschlag fand ich ein wenig verwirrend erklärt, zumal mir (und google) unbekannte Begriffe vor kamen, ich konnte das aber mit einer Mail und einem Telefonat mit der Buchautorin sehr schnell klären. (Und wenn ich es einfach gemacht hätte, wie in jeder beliebigen Möbius Anleitung im Netz erklärt, wäre es auch kein Problem gewesen, denn es wird nichts Spezielles verlangt.) Das Muster erforderte dann viel Zählen und ständiges hin und her springen zwischen Buch und Strickschrift auf dem Extrabogen, hat aber sehr viel Spaß gemacht. Und das Muster ist wirklich handwerklich extrem gut gemacht, da gibt es weder Schwachstellen (durch ungeschickt gelegte Wendestellen) noch unschöne Knubbel. Trotz der Zählerei also ein Strickvergnügen fürs Sofa. (Nicht so für die Bahn.)
The instructions how to cast on were a bit confusing for me, they also used a term I was not familiar with (nor was google), but the author answered my mail quickly and one phone call later I could start. (And if you just use any Moebius cast on as can be found on the web everything is fine, there is nothing special to do.) After that a lot of counting is required and also consantly jumping between the written part of the instructions in the book and the chart on one of the big extra sheets, but it was still fun. And the pattern shows real craftmanship: All those turns are distributed in a way that they neither create knotty parts or weak parts in the knitting. So knitting is real fun, more on the sofa and not so much in trains.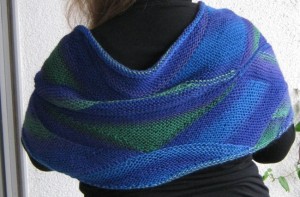 Als Garn habe ich das Originalgarn "Reggae ombre" von Schoppel Wolle gewählt, nur in der Farbe bin ich mit "Holly Blue" abgewichen. (Gefunden habe ich es wie so oft in der Maschenkunst.)
For the yarn I used the same as the pattern suggests: Reggae ombre by Schoppel Wolle. Only I choose the color "Holly Blue". (Purchased at Maschenkunst, no surprise.)
Mit der Maschenprobe habe ich gemogelt, die habe ich weggelassen und einfach etwas kleinere Nadeln, nämlich 4,5mm, genommen, als die Anleitung vorgibt. Mein Bernstein ist jetzt ein wenig kleiner, aber mit der nächsten Nadelgröße wäre er viel zu groß. Und das Rippenmuster dehnt sich eh in alle Richtungen.
I skipped the gauge and used 4.5mm needles, a little smaller than the pattern says. So my "Bernstein" (= amber) is minimally smaller, but with the next bigger needles it would have been to big. And the garter ridges will stretch in any direction.

Das Farbverlaufsgarn trägt natürlich zum Strickspaß bei. Durch den langen Verlauf ist die Verteilung über die Knäuele extrem unterschiedliche. Manche haben zwei grüne Bereiche, andere nur einen. Lustigerweise ist die Farbverteilung bei mir relativ symmetrisch rausgekommen.
The yarn is part of the knitting fun, of course. The color runs are very long, so the distribution over the skeins is very irregular. Some have one green part, others two. Strangely the colors distribute quite symmetrically.
Noch mehr Infos wie immer bei Ravelry.
As usual more detailed information on Ravelry.