Unser kleines Nähkränzchen verkleinert sich leider weiter. Wie Capricorna ja in ihrem eignen Blog schon geschrieben hat, ist sie nordwärts gezogen.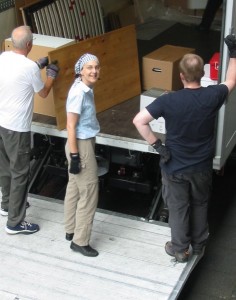 Und natürlich haben mein Schatz und ich am Freitag geholfen, die unzähligen Kisten mit Stoffen, Nähbüchern (und dem restlichen Hausrat) in den Laster zu schaffen. Auch die Overlock und die Filzmaschine wanderten hinein. (Die Nähmaschine reiste im Kofferraum, ließ ich mir sagen.)
Our small regular sewing group has diminished. As Capricorna is writing in her own blog she is moving north.
On Friday we (my husband and me) did help her getting all those fabrics and sewing books on the truck. Together with the rest of the household items, the serger, an old treadle machine… only her sewing machine was allowed to travel in the car.
Inzwischen sind sie auch schon gut angekommen und geben sich dem Vergnügen des Auspackens hin.
Winke winke, Capricorna!
(Und irgenwann kommen wir euch besuchen. Sobald die Gästecouch wieder aufgebaut ist. *g*)
Meanwhile they arrived well and have the full pleasure to find new places for everything in the new appartement.
Bye bye, Capricorna!
(One day we'll visit you, once your guest bed has a new place! 😉 )