Socks with hooks
Nachdem Bärbel mir ja schon die ganze Zeit was vorgehäkelt hat mußte ich es einfach mal probieren… Nur um zu sehen, ob es geht…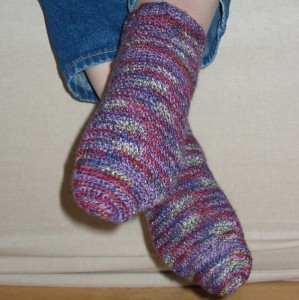 Socken häkeln. Und tatsächlich, es funktioniert und man kann sie sogar anziehen.
Since Bärbel did it all the time I finally couldn't resist and had to try it myself. Just to find out whether it works.
Crocheted sock. And indeed, it works and I can even wear them.
Natürlich habe ich mir auch Bärbels Buch Gehäkelte Trend-Socken vorgenommen. Nicht nur verschiedene Sockenmodelle sind drin, sondern auch schlichte Grundanleitungen. Ich habe die Grundanleitung für die "rundgehäkelte Socke" genommen.
Of course I used Bärbels Book Gehäkelte Trend-Socken. there are not only different fancy socks but also basic instructions you can use in any size. I used the instructions for "rundgehäkelte Socke". (Bärbel has it on ravelry as "Basic Socks".)
Und habe einfach der Anleitung gemäß gearbeitet. Hinten im Buch ist nämlich eine Lasche mit übersichtlichen Maschen- und Zentimeterangaben für verschiedene Größen. (Und ein aufgedrucktes Zentimetermaß ist ebenfalls nützlich, so mußte ich mein Bandmaß nicht auspacken.)
I had never crocheted socks before so I just made my way through the instructions. That worked well, there were only two things that irritated me a bit on my way. One was forming the heel, I had the knitted heel in mind so I ignored the instructions about distributing the added stitches. That looks a bit funny now, but when I'm wearing it it works well anyhow.
Die Anleitung funktionierte sehr gut, ich konnte mich einfach "entlanghäkeln". Irritiert war ich nur zwei Mal, einmal bei der Ferse, so ich die Zunahmen erst mal ungeschickt verteilt habe. Ich hatte die Strickferse im Kopf und verstand daher nicht, warum ich die Zunahmen verteilen soll. Und habe es daher auch nicht wirklich gemacht. Naja, man häkelt erst mal einen relativ flachen Teller, also muß man die Zunahmen verteilen. Tut man es nicht, sieht die Socke zwar etwas seltsam aus, beim Tragen ist es dann aber egal.
Der zweite Punkt war der Übergang zum Schaft, da heißt es nämlich, man soll die Abnahme wie bei der Nahtsocke machen. Dann mußte ich mir das erst mal durchlesen (hatte ich nicht vor gehabt) und es brauchte etwas Vorstellungsvermügen, wie das bei der Rundsocke geht. Aber ich habe es rausgefunden. 🙂
The second point were the decreases at the shaft. Here the instructions tell you to check at the sewn sock pattern. So I had to read that and figure out, because the other pattern is not in the round, so I needed some imagination. But I managed. 🙂

Die Socken sind elastischer als ich erwartet hatte und tragen sich gut. Etwas rauher finde ich, als gestrickte. Und jetzt sind sie in der Wäsche…
(Ach ja, Wolle ist Regia Arctic Colour aus der Maschenkunst.)
Result: The socks are more elastic than I had expected and they wear well. A bit rougher than knitted one I'd say. And now they are in the laundry…
(Wool was Redia Arctic Colour from Maschenkunst,)