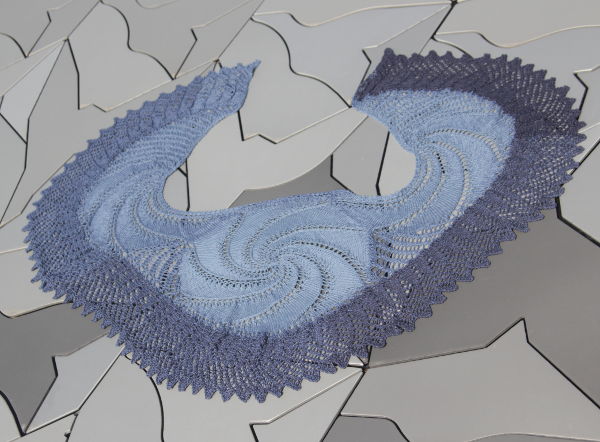 Schon als ich die Anleitung für In the Pink das erste Mal sah war klar, daß ich das Tuch stricken muß. Und zwar wegen der Konstruktion. (Was etwas blöd ist, weil ich eigentlich lieber rechteckige Tüchter trage…) Man fängt in der Mitte an, strickt dann die beiden Seitenflügel, fügt das zusammen und füllt die "Löcher" dazwischen auf und am Ende strickt man quer den Rand. Und ich wollte ein Garn mit langem Farbeverlauf dafür, um die Konstruktionsreihenfolge zur Geltung zu bringen.
When I saw the instructions for In the Pink for the first time I knew I had to knit it. Because of the way it is constructed. (Kind of stupid because I normally prefer to use rectangular shawls…) You start with the middle, then you knit the wings separately put it together and fill the "holes" in between and then you knit the border as a knit on border. And I wanted a yarn with a long color run to show the construction.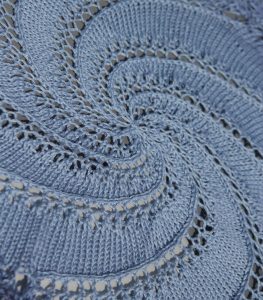 Wann ich die Anleitung gesehen habe kann ich nicht recht sagen, aber bei Ravelry steht sie seit 2008. Was ich hingegen erst mal nicht fand war ein Garn mit wirklich langem Farbverlauf. Ich gebe aber zu, eilig hatte ich es nicht, weil eh klar war, daß das ein Projekt wird, das eher fürs Sofa als für mein übliches Unterwegsstricken geeignet ist. Aber 2015 bot sich bei einem Tausch "Lace 4fädig" von 100Farbenspiele in Blautönen an. Und als ich dieses Jahr etwas für meinen Urlaub suchte, war das Tuch endlich dran. 🙂
I can't say when I spotted the pattern for the first time but it's on Ravelry since 2008. What I did not spot was a yarn with a really long color run. I was not in a hurry since it was clear it would be a pattern that's better knitted on the sofa and not in trains where most of my knitting happens. But in 2015 I could swap the yarn "Lace 4fädig" by 100Farbenspiele in shades of blue. And when I was thinking what to knit in my holidays this year that was finally my choice, 🙂
Das Stricken ging dann erstaunlich schnell, weil das Muster letztlich doch deutlich weniger kompliziert ist als meine üblichen Lace Muster. Allerdings geht die Anleitung an der einen oder anderen stelle nicht ganz auf, was nicht nur beim Stricken so ist, sondern auch beim Lesen schon auffällt. Man hört z.B. nicht mit der gleichen Maschenzahl auf, wie man hinterher weiter strickt. Das kann man zum Glück relativ leicht "auf Sicht" ausgleichen, aber ich war sehr überrascht, daß ich bei den vielen Projekten und auch im KnitAlong Thread dazu nur jubelnde Beiträge las, aber niemand einen Fehler berichtete. (Zum Glück fand ich dann doch noch zumindest eine Strickerin, die in ihrem Projektnotizen das auch beschrieben hatte…) Es ist ja schon, daß niemand kostenlose Muster in die Pfanne hauen will, aber hilfreich ist das so auch nicht…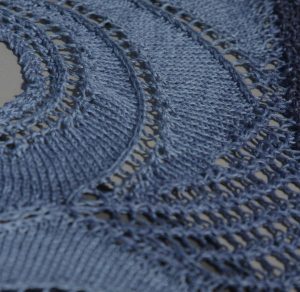 Knitting went surprisingly fast, because the pattern as a whole is way less complicated than the lace patterns I am used to. But the pattern does not match at some spots. Which is even clear from reading the patter, for example when you do not stop with the same number of stitches you are supposed to pick up later. It was not so complicated to correct that "by sight" but I was quite surprised that amongst all those praising project notes and also in the KAL thread nobody mentioned it. (Luckily I finally found some honest project notes from a knitter who had found the same mistakes.) I understand that one is reluctant to criticize a free pattern, but in the end that is not helpful. Neither to other knitters nor to the designer who has no chance to correct the pattern.
Im Nachhinein hätte der Farbverlauf dann doch etwas kürzer sein können… Und etwas besser geplant, denn zuerst ging es mit unglaublich sanften, kaum wahrnehmbaren, Verläufen los, dann kam ein sichtbarer Sprung und gegen Ende wurde es dann auf einmal deutlich dunkler. Und ich habe noch eine Menge übrig, da ist vermutlich noch mal ein Übergang drin. Ach ja, spannen war bei der Form auch etwas schwierig… 😛
After finishing I'd say the color runs could have been a bit shorter… And better planned. Because it started with extremely soft, hardly visible changes but then there came a visible "jump" in color and then the change to the darker tones is quite sudden. And I have quite some left. I think there is one more change of color hidden. BTW… blocking was not easy with that shape… 😛
Trotzdem gefällt mir das Ergebnis sehr gut und ich habe das Tuch überraschenderweise schon einige Male getragen. Es schmiegt sich durch die Form gut an den Körper an und man kann es so auch gut unter eine Jacke tragen. Und verliert es nicht sofort, wenn man sich bewegt.
Still I like the result a lot and I wore it already several times. Due to the rounded shape it lays well on the body and so I can wear it well under a jacket. And I can move without loosing it all the time.