Fresh from the needles December 2016
Ein spannendes Nähprojekt gibt es inzwischen nicht zu vermelden. Zum einen bin ich mit der Advents- und Weihnachtsvorbereitung gut beschäftigt, zum anderen kann ich seit etwa vier Wochen nicht mehr gut an meine Nähmaschine, weil die Pakete von der Mützen für Obdachlose Aktion davor stehen. Am Wochenende werde ich die mal in einen Koffer umschichten und am Montag werden sie an das Diakonische Werk in Köln übergeben.
There is no interesting sewing project right now. Once I am quite well occupied with Christmas preparation, but also I can hardly reach my sewing machine since about four weeks ago, because there are the parcels from the Knitting hats for the homeless campaign stored in front of it. This weekend I will stuff them into a big suitcase so I can bring them to the Diakonisches Werk in Cologne who will distribute them.


Was ich allerdings getan habe, so lange die Maschine noch zugänglich war: Meine Stopfwäsche abarbeiten. So ist aus dem anfänglichen Gebirge dieser doch recht handhabbare Haufen geworden.
What I did as long as I could reach my machine was working on the clothes for repair. It had started as a mountain and I am down to a relatively small heap by now.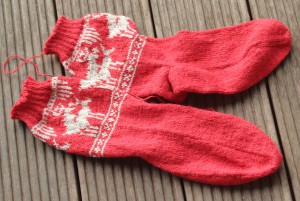 Aktuell habe ich die Weihnachtssocken für meinen Bruder fast fertig. Das Motiv ist aus dem Fornication Deer Chart von Anne Rutten übernommen, die Wolle ist Crelando "Anika", vulgo Lidl Wolle.
I am nearly finished with my brotheres Christmas socks. The chart is Fornication Deer Chart by Anne Rutten. Wool is "Anika" by Crelando.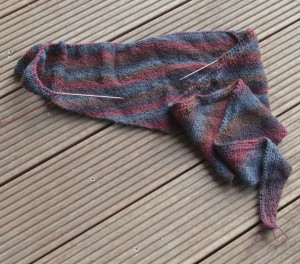 Nachdem die Socken nur noch zu vernähen sind (und das besser auf der Couch passiert als in der Bahn) habe ich mir das Trillian Tuch erneut vorgenommen, so daß hier das erste Knäuel fast verstrickt ist. Ich muß dann man mit meinem Hitchhiker vergleichen, ob mir die Größe reicht, oder ich das zweite noch anfange. (Das ist definitv ein Nachteil der Anleitungen von Martina Behm: Dadurch, daß die immer für Wollmeise ausgelegt sind, wo die Knäuel mit 150g kommen, passt es bei allen anderen Garnen dann schlechter.)
The socks need mostly the ends woven in which is better done at home than on a train, so I got the Trillian scarf out of hibernation. I've nearly finished the first skein, I think I will compare the size with my hitchhiker and then decide, if I start the second one or not. (The biggest disadvantage of the patterns by Martina Behm. She is writing it all for "Wollmeise", who comes in 150g skeins. So it does not match all other "standard sized" yarns.)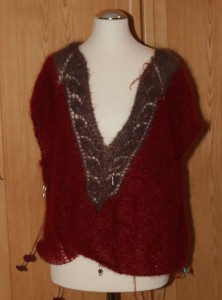 Bis auf den Hüftknochen reicht mir inwzischen meine Stricktunika. Ich komme zwar nur selten zum Stricken, aber sie wächst schnell. Nur kann ich im Moment das sechste Knäuel rot nicht finden, also werde ich etwas zeitiger als mir lieb ist auf braun umstellen. 🙁 Von den Proportionen her hätte ich gerne mehr rot gehabt. Naja… Außerdem werde ich die Zunahmen jetzt etwas forcieren, damit ich zum Saum hin noch etwas Weite gewinne.
What grew nicely is my knitted tunic. It has reached my high hip. I do not have time to knit on it very often, but it grows well. Only problem right now is, that I can't find the 6th red ball… so I will have to switch to brown sooner then I wanted to. The proportion would have been nicer with more red. Well… And I will have to make fewer rows between the rows where stitches get added, I wanted to have a bit more width at the bottom.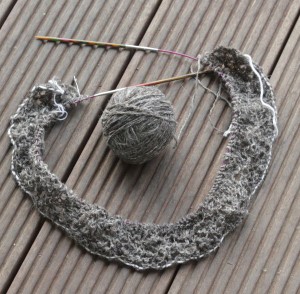 Ein etwas ungewöhnliches Garn habe ich für mein nächstes Lace Projekt gewählt. Es ist relativ fein ausgesppnnenes Jakobschaf, was von natur aus diese "bunte" Färbung mitbringt. Es ist aber viel rauher als Lace Garne normalerweise. Ich bin schon gespannt, wie am Ende die Textur wird. Die Anleitung kommt aus Victorian Lace Today und es ist der "Knitted Veil in Pyrenees Wool".
Maybe a bit unusual is the yarn I've chosen for my next lace project. It's a relatively fine spun Jacob sheep, which brings this multitude of natural hues. It is much rougher than lace yarns normally are so I am really curious to see what the texture will be in the end. The pattern is from Victorian Lace Today and it's the "Knitted Veil in Pyrenees Wool".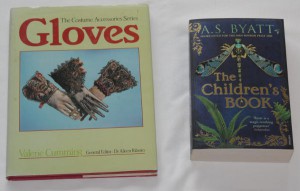 Zum Abschluss noch ein Blick auf die Nachttischlektüre. "The Children's Book" wird mich wohl noch eine Weile begleiten, denn es ist so ergiebig, ich es erhofft hatte. Nur mein Zeitbudget gibt das gerade nicht her. Und dann blättere ich momentan gerade gerne in einer Geschichte zum Thema Handschuhe. Auch sehr spannend.
The last view goes to the books on my night stand. "The Children's Book" will accompany me for a while because it has as much content as I had hoped for. Just my spare time does not have the same content. And then I am browsing from time to time the sides of a history of Gloves. Very interesting also.