Speachless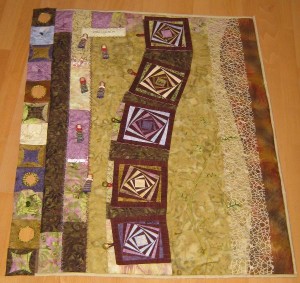 Und ich dachte noch beim Blog gucken Was macht sie dann da wohl Schönes?
Und dann klingelt der Postbote und ich finde das hier in einem Päckchen.
When reading her blog I'd thought How beautiful, what is she doing there?

And then the postman rings and I am finding this in a parcel.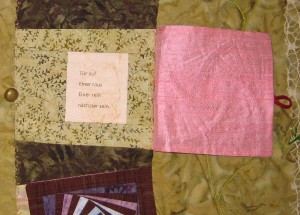 Der Quilt ist einfach wundervoll! So viele Details, und alles so durchdacht und abgestimmt.
The quilt is really wonderful! So many details and everything fits together so well.
Hier wurde nämlich ein Gedicht umgesetzt. Die einzelnen Strophen verbergen sich hinter Türen. So passend zum Gedicht.
It's a poem that was translated into a quilt there. The verses are behind doors which fits the poem extremely well.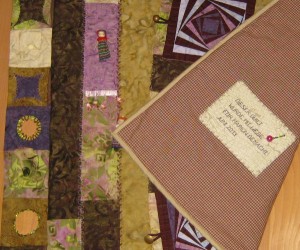 (Mit Gedichten kann ich ja in der Regel nicht so viel anfangen, aber Ernst Jandl und dieses Gedicht gehören zu den wenigen, die ich mag. Das muß Gedankenübertragung sein…?)
(Poetry is generally something that I am not too much interested in. I am mostly neutral to that part of literature. But Ernst Jandl and this poem are amongst the few exeptions… it's one I like. Has somebody been reading my mind?)
Ganz lieben Dank,Bloomsbury!
So many thanks, dear Bloomsbury!