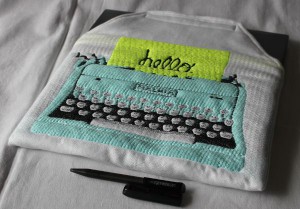 Als ich diesen Stoff bei Malhia Kent in Paris gesehen habe war sofort klar, daß ich den haben mußte. Und daß das eine Hülle für mein neues Notebook werden würde.
When I spotted this fabric at Malhia Kent in Paris I knew instantly that I had to buy it. And that it will become a sleeve for my new notebook.
Perfektes Motiv, für meine tragbare Schreibmaschine, oder? 😉
Perfect theme for my carry around type writer, isn't it? 😉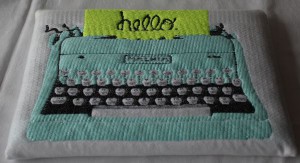 Ich habe es mit Dupionseide gefüttert, mit Volumenvlies einen Teil des Motivs gequilted und verschlossen wird es mit einem Klettband auf der Rückseite. (Und es wird irgendwann eine Anleitung dazu geben, aber auf hobbyschneiderin24.de. Wenn ich denn mal Zeit dazu haben werde…..)
I used silk for a lining, and quilt batting to enhance parts of the type writer with some straight stitches. Closure is hook and loop tape on the back.