Den letzten Parisbesuch habe ich natürlich auch für kulturelles Programm genutzt und war im Museum. (Zumal es dort wärmer war als im Freien.) Ins Musée Galliera wollte ich schon länger mal, da es aber nur für temporäre Ausstellungen geöffnet ist, hatte das noch nicht geklappt. Aber die Ausstellung Sous l'Empire des crinolines zog mich diesmal hinein.
Last time I was in Paris I did not only shopping, I also went to see some exhibitions. (Also inside is warmer than outside in winter…). I had always wanted to go to Musée Galliera but somehow never made it. But this time the exhibition Sous l'Empire des crinolines helped me finding a way in this time.
Natürlich beginnt die Ausstellung mit opulenten Ballroben und zugehörigen Accessoires wie Fächern und Schmuck. Was mir bei aller Bewunderung auffiel war, daß man damals auf den Musterverlauf offensichtlich herzlich wenig Wert gelegt hat. Auch schienen mir viele Abnäher an den Corsagen eher gefaltet, als genäht zu sein. Wenig verwunderlich, denn Stoff war teuer und ich nehme an, man konnte Dinge leichter umarbeiten.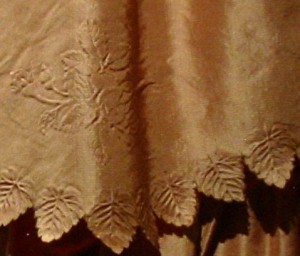 Viele Details waren natürlich mehr als einen Blick wert. Was mich aber absolut fasziniert hat, ist dieser Saum. Es ist Seide und die Blätter sowie Rosen sind offensichtlich geprägt. Und dann? Einfach ausgeschnitten? Da ist nichts umgenäht, nichts rolliert, kein Saum, sondern eine Schnittlinie, die den Blättern exakt folgt und es franst nichts aus! Hat jemand irgendeine Ahnung, wie das gemacht wurde? Das Kleid stammt immerhin aus der zweiten Hälte des 19 Jahrhunderts, da war noch nichts mit Lasercut.
(Die Farbe war übrigens ein freundliches, klares rosa. Aber ohne Blitz kann das meine Kamera nicht besser.)
Of course the exihbition starts with sumptous ball gowns. Even though many of them were breath taking with those fabrics, lace, detailed embroidery,… I recognized that matching the fabric design, even stripes, was not the main concern of the 19th century seamstress. If she cared at all. Also some "darts" that shaped the tops seemed more merely folded and nut cut out. As fabric was expensive and it was, as far as I know, common practice to alter or redesign gowns they probably tried not to damage the fabric more than necessary.
Many overwhelming details to look at. But what stunned me most, I think, was this hem. It's silk, embossed with roses and leafs. And then? The cut follows precisely the leafs, there is no hem, nothing sewn, still it does not ravel. Has anyone any idea what tools they might have used to achieve that? Lasercut wasn't an option then. (The colour of the pic is not true, it was a friendly clear pink, but without flash in dim lights my camera couldn't do better.)
Neben den Ballkleidern gibt es aber auch Tageskleider, Reisekleidung, Sommerkleidung,… zu sehen. Dazu Schuhe, Sonnenschirme, Täschchen, Spitze,… selbst einige Crinolinen sind nackt zu sehen und ein Oberteil war mit der linken Seite nach außen gelegt, um die Verarbeitung zu erkunden.
Zusätzlich gab es noch einiges an Informationen, etwa wie die aufkommende Industrialisierung die Kleidung beeinflusste (z.B. indem Stoffmotive so gedruckt werden konnten, daß sie parallel zum gerundeten Rocksaum verliefen) oder wie sich das Ideal der weiblichen Figur gegenüber heute verändert hat. Das beschränkt sich nämlich nicht auf die damals geschnürte Taille.
Also they show a variety of day dresses, for summer, for travelling,… along with shoes, umbrellas, lace… even some "naked" crinolines to study the metallic structure and one top is shown inside out to see a bit of the way it was sewn.
And of course a lot more information like how the beginning industrialisation influenced fashion (e.g. it became possible to print fabric designs in a way they would be parallel to the rounded hemlines) or how the ideal female shape changed from then to today. (There are far more differences than waist stay or not.)
Die Ausstellung läuft noch bis 26.04.2009 im Musée Galliera, 10, avenue Pierre-1er-du-Serbie, 75016 Paris. Montag geschlossen.
The exhibition will be on until 26.04.2009 in the Musée Galliera, 10, avenue Pierre-1er-du-Serbie, 75016 Paris. Closed on Mondays.