Rainbowcrocodile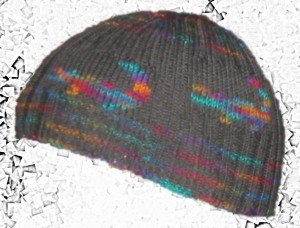 Auch wenn es vielleicht gerade so aussieht… ich lese nicht nur, ich werkle auch noch, zumindest ein bißchen.
IRgenwie war vor Weihnachten mehr Stricken angesagt, aber ich bin nicht dazu gekommen, alles zu zeigen.
Diese Mütze mit Krokodle war auch ein Geschenk, aber nicht für Weihnachten.
Und da ich die Anleitung selber gemacht habe, kann ich sie hier auch zu Verfügung stellen: Anleitung zur Mütze "Regebogenkrokodil" als pdf.
Falls jemand sie für privaten Gebrauch nachnadeln mag freue ich mich über Links auf eure Photos davon. Viel Spaß!
(Und natürlich ist das Urheberrecht der Anleitung bei mir und die Anleitung darf nicht kopiert oder verkauft werden oder für nicht private Zwecke verwendet werden. Zumindest nicht ohne meine Genehmigung.)
It might look as if I only was reading, but I am also doing things. Only I am mostly knitting at the moment and with christmas approaching I cannot show most of the things before december, 25th.
But this beanie with crocodiles is a gift, but not for christmas, so I can show it now.
And since I made the pattern myself I can offer it to you: Pattern for beanie "Rainbowcrocodile" as pdf.
In case anyone wants to use it for personal use I'd appreciate a link to your picture in the comment section. Have fun!
(Copyright, of course is mine. The pattern is not to be copies or sold and not to be used for non-privat use without prior written consent.)