Ich mache ja selten bei Wichtelaktionen mit, aber kürzlich hatte ich mal wieder Lust. Und Lacegarn ist ein schönes Thema und brauchen kann man es auch immer. 🙂
I am not taking part in swaps very often, but I felt like it again. And Lace yarn is a loverly topic and I can never have too much lace yarn. 🙂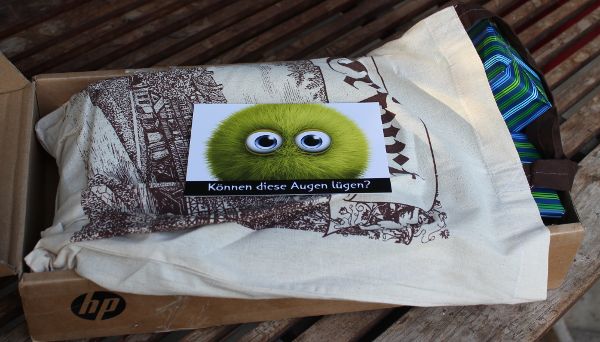 Okay, meine Wichtelmum hat wirklich gründlich verpackt… alles noch mal einzeln in Geschenkpapier. Und was für eine süße Karte!
Okay, my swap partner had really packed well… wrapping paper for each item. Und what a cute card!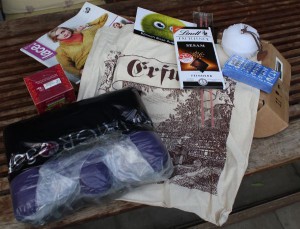 Der Inhalt war dann wirklich umwerfend. Das Paket kam aus Erfurt, was von der Gegend, aus der ich stamme nur knapp 200km entfernt ist. Trotzdem war ich da nie, denn als ich da noch gelebt habe, konnte man da nicht so einfach hinfahren. Eiserner Vorhang und so…
What was inside was really great. The packet came from Erfort, which is less than 200km from the region I grew up. But I've never been there, because while I was living there, you could not just go there. Iron curtain and such…
Besonders toll finde ich ja die Kerze als Wollknäuel. Aber Schokolade mit Sesam hatte ich auch noch nicht, auf die bin ich schon gespannt. (Ich habe nur gerade so viel angepackten Süßkram und diverse Geburtstagskuchen, daß die erst mal zu bleibt.) Und wirklich überwältigt war ich vom Garn: 10 Knäuel oder 4000m Merino Lace von Lana Grossa. Ich wollte doch schon lange mal eine Jacke oder so aus Lace Garn… Mal sehen, wann das was wird.
I think what I nearly loved most was the candle in a shape of a wool skein. But also chocolate with sesam… I love both and never tasted that. (I managed not to eat it right away, because I had so many sweets and several birthday cakes around.) And I was really thrilled by the yarn: 10 skeins or 4000m of Merino Lace by Lana Grossa. I had been thinking about a cardi or something from lace yarn… Let's see when…