Modest shopping in Paris
Auf der L'Aiguille en Fête in Paris war ich ja in erster Linie zum "arbeiten", also um einen Bericht für Hobbyschneiderin24 zu schreiben, aber ein bißchen eingekauft habe ich doch…
Going to L'Aiguille en Fête in Paris was basically "work" because I went to write an article for Hobbyschneiderin24, but there was a bit of shopping for me also…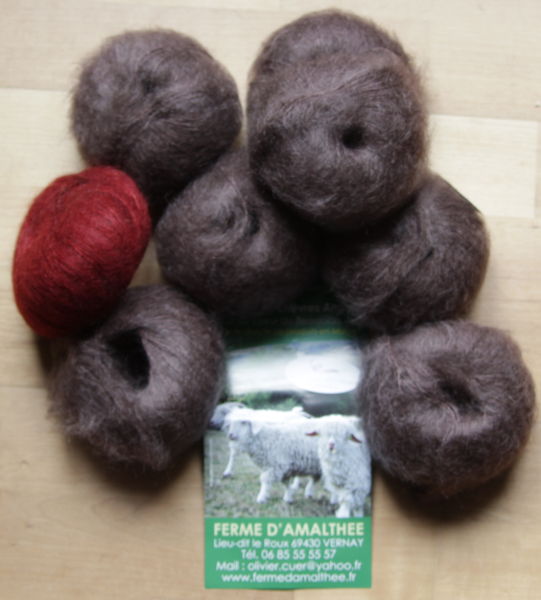 Geplant war der Wollkauf. In Frankreich gibt es eine Organisation Le Mohair des Fermes de France, die die Fasern vieler kleiner Züchter von Angoraschafen verarbeitet und an die einzelnen Züchter zur Selbstvermarktung zurückgibt. Und an einem dieser Orte habe ich vor vielen, vielen Jahren (2007 sagt mein Blog) nach ausführlichem Streicheln kleiner Ziegenbabies sechs Knäuel Wolle in rot gekauft. Mehr ging nicht, weil ich nicht mehr Bargeld dabei hatte.
What I had planned for was buying that lovely yarn. In France there is the organization Le Mohair des Fermes de France who takes the fibers from small breeders of mohair goats, spins and dyes it and gives it back to the breeders so they can sell it on their own. And a long, long time ago (2007 says my blog) on one of those farmes I've bought six fluffy skeins of yarn. (After playing with the baby goats…) I could not buy more because I did not have more cash.
Ursprünglich wollte ich ein Tuch daraus stricken, aber je länger ich das Garn hatte, desto sicherer war ich mir, daß es eher eine Tunika werden will. Nur hatte ich dafür nicht genug Garn. Das sind fluffige 25g Knäuel… Und das Garn gibt es natürlich nicht im Wollgeschäft, ist ja nur Selbstvermarktung. Aber ich hatte im Ausstellerverzeichnis gesehen, daß jemand das Garn auf die Messe mitbringen würde. 🙂 (Es waren dann sogar mehrere da.) Also habe ich eines meiner roten Knäuel mitgenommen und bei La Ferme d'Amalthée noch sieben braune dazu gekauft. (Gleiche Farbpartie bekommt man ja nach so vielen Jahren nicht mehr. :o) ) Mal sehen, ob es 2016 oder 2017 verarbeitet wird. Noch mal so lange soll es aber auf keinen Fall liegen.
My plan was to knit a shawl, but the longer I had the yarn the more I was sure I wanted to become a tunic. Only I did not have enough yarn for that. One ball is just 25g… And of course you can't buy it in yarn shops, its for the individual farmers to sell it. But when studying the list of the exhibitors I saw that the yarn would be on sale on the fair. 🙂 (In the end there were several exhibitors who carried it.) So I took one of my red skeins with me and choose seven brown ones at La Ferme d'Amalthée. (No chance to get the same dye lot after so many years. :o) ) Not sure if I will knit it in 2016 or 2017. But I do not intend to let it sit for so many years again.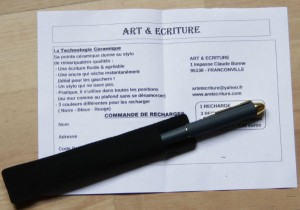 Nicht ganz so geplant war dieser Stift. Sieht auch nicht so besonders aus. Kann aber mit dünner Spitze dauerhaft auf Stoff schreiben. So was hatte ich zum Markieren schon länger mal gesucht und da war die Gelegenheit gerade günstig…
Not so well planned was buying this pen. Doesn't look any special. But it can write with a fine tip on fabric. I've already had the idea that something like that would be useful, so I took it when I saw it.
Danach hielt ich es für besser, die Messe zu verlassen… bevor ich noch mehr gekauft hätte, als in den Koffer gepasst hätte. 😉
Then I decided it was time to go home… before I would shop more than my luggage could hold… 😉