Easter Preparation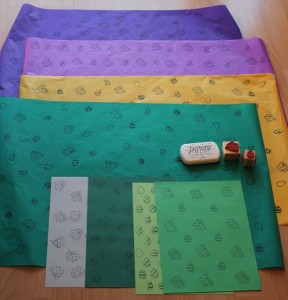 Auch Ostern kommt ja immer so plötzlich, also habe ich mich mal an einige Vorbereitungen gemacht.
Also Easter always comes so unexpectedly, so it was more than time for some preparations.
Die "Kinder", denen wir die Eier verstecken sind ja inzwischen schon recht groß, daher wird der Versteckort außerhalb unserer Wohnung liegen und wir müssen die Sachen auch schon am Freitag dort hin bringen. Dann kaufe ich dazu ja immer die unverpackte Beutelware im Fabrikverkauf von Lindt, was bedeutet…. das Zeug muß noch irgendwie verpackt werden.
Now the "kids" are not so small any longer, so our appartment isn't large enough for a challenging egg hunt. We have the possibility to use another, far bigger location but we will have to bring the sutf there already on Friday. The other thing is that I am usually buying mostly unwrapped chocolates from Lindt in big bags for that, so I need some packaging.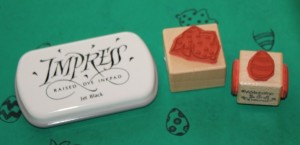 Die Creativa habe ich genutzt, um am Stand der Stempelschmiede das süße Blumenhäschen, einen Stempel mit vier Eimotiven sowie ein Stempelkissen zu kaufe. (Gut beraten von Bärbel.)
On the Creativa I've bought some cute stamps from Stempelschmiede and an ink pad also. (Well advised by Bärbel.)
Nun, Bärbel wird das zwar entsetzlich finden und mit ihrer Stempelkunst hat das auch so gar nichts zu tun, aber auf diese Weise bekomme ich mit vertretbarem Finanz- und Zeitaufwand aus billiger Blumenseide von VBS und bunten Papieren eine österliche Grundlage, um Tüten und Behälter zu basteln.
Well, Bärbel will probably find it horrible, because it is quite boring and has nothing to do with the art of stamping she is doing, but that way I am getting "easterly" material from cheap wrapping tissue and colored paper to fold it into bags and boxes.
Ich habe immerhin gelernt, daß es schwierig ist, auf Seidenpapier zu stempeln, zum einen weil die Stempelfarbe gerne etwas verläuft, zum anderen, weil das Seidenpapier natürlich beim Wegnehmen des Stempels ein bißchen mit hoch kommt. Macht aber nichts, für meinen Zweck taugt's. Ansonsten war das Stempelkissen aber eine gute Investition, denn die Farbe geht nur mit Wasser ganz leicht wieder von den Stempeln runter.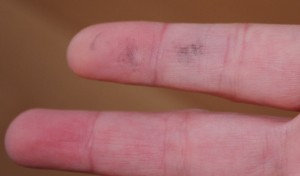 Von den Fingern leider nicht so leicht. Das ist schon der Zustand einige Stunden und etwa acht mal Händewaschen mit Seife später…
I consider it well invested money, also for the ink pad. The ink washes away from the rubber very easily without soap or anything. (Before I had been using an office ink pad where cleaning took more time.)
As far as my fingers are concerned it does not wash away that easily. What you see on the picture is already hours later and after about eight time hand washing. (With soap, of course!)