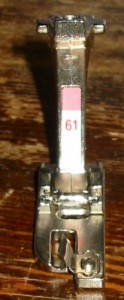 Im Prinzip besitze ich ja jede Menge Hilfsmittel. Etwa diesen Säumerfuß für 2mm breite Säume.
Und an meiner Schlafanzughose wollte ich, wegen des Stoffmangels, einen sehr, sehr schmalen Saum.
Eine ideale Kombination, könnte man meinen.
Alleine… ich und dieser Fuß, dazu der schräg geschnittene Stoff…. in die Schnecke einlegen… kein Problem. Die ersten Stiche… auch kein Problem. Aber nach spätestens zwei, drei Zentimetern rutscht der Stoff aus der Führung und das wars dann.
Ich kann es einfach nicht! (Ein Kurs für diesen Fuß… das hätte was…)
Bevor der Stoff vollends ausfranst gebe ich auf und mache den Saum auf die gute alte Art…
Theoretically I own a lot of usefull things. Like this hemmerfoot for 2mm hems.
That was exactely what I wanted for my pyjama pants, because of the "shortness" of the fabric. A very, very small hem.
Perfect combination. Theoretically.
Only… me, this foot and the bias cut fabric… no problem to bring the fabric in the foot. First stitches… everything fine… but after two, three centimeters (about one inch) the fabric slips out of the guiding thing and that was it.
I am not able to use that foot! (Are there hands on classes for that?)
So, before my fabric is frayed completely I'm giving up and make the hem the good old way…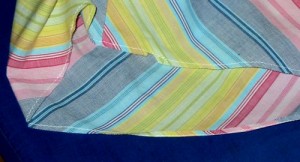 Zum Glück ist das auch nicht so schwer.
2mm schmal wird der Saum so nicht, aber doch schmal und das auch noch recht schnell.
Zuerst nähe ich mit Gradstich und längerer Stichlänge (3mm) wenige Millimeter von der Schnittkante entfernt. Ich benutze einfach den rechten Rand meines Gradstichfußes als Orientierung und komme so auf etwa 4mm.
Entlang dieser Naht kann man den Stoff dann ohne große Probleme Stück für Stück umbügeln. Er läßt sich entlang der Stichreihe sehr schön und sauber nach links umlegen.
Luckily there is a quite easy method to make a not so large hem. It's larger than 2mm, but very small anyhow. (Well, I never tried 2mm. Maybe it was possible…)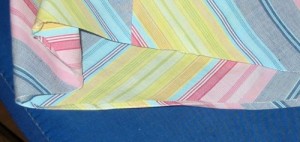 First I'm straightstitching close to the edge, stitch length not to short. 3mm or a little longer. I've been using the right edge of my straight stitch foot as a guide, so I have about 4mm.
Then I'm folding the fabric along that line of stitching to the left side and press. The fabric will turn very easily because of the stitches.
Den einmal umgebügelten Saum falte ich dann noch ein zweites mal nach innen um.
Wieder festbügeln.
Der Faden der Hilfsnaht bleibt drin und ist hinterher in der Naht unsichtbar.
The pressed hem I'm just folding a second time and press.
That's all, a neatly fold even hem.
The stitches just remain, they will be invisible in the hem.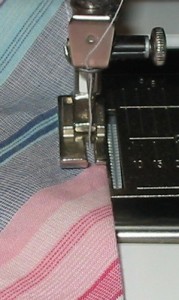 Am Ende muß der Saum nur noch festgenäht werden.
Ich nähe von der rechten Seite und wieder mit dem Gradstichfuß. Da der Saum ja gleichmäßig gefaltet ist, kann ich mir auch sicher sein, alle Lagen zu erwischen.
Wer sich da nicht ganz sicher ist, näht einfach von der linken Seite aus, wo die Kante des gefalteten Saumes zu sehen ist.
Last thing is stitching the hem, of course.
I've been doing this from the right side, using the straight stitch foot (as for the whole project, minus the buttonholes). As the hem was fold evenly, I can be sure to stitch through all layers.
If someone is less sure… you can do the stitching from the left side, where you can see the folded edge of the hem.