Rainbow Wingspan
Dieses Tuch ist schon seit November (2012) fertig, aber zeigen kann ich es erst jetzt, denn es ist ein Geschenk und das wollte ich nicht vorher zeigen. Zumal die Beschenkte gelegentlich hier mit liest.
I've finished this scarf in november (2012) already but I had to wait until know to show it. It's a gift and the receiver sometimes does read this blog.
Das Muster ist Wingspan von Tri'Coterie bei ravelry. Dort schon in über 6000 Projekten zu sehen verstehe ich genau warum. Eines jener Muster, die mit verkürzten Reihen spielen, ganz einfach zu stricken sind, aber einen verblüffenden Effekt erzielen.
The pattern is Wingspan by Tri'Coterie via ravelry. There are more than 6000 projects and I understand perfectly why: It is one of those smart short row patterns that are easy to knit, but create a stunning effect.
Das Garn ist Regia Bamboo Sockenwolle, wunderbar weich und in allen Regenbogenfarben leuchtend. (Ich habe viel rumprobiert, aber so richtig lassen sich die Farben nicht einfangen. Sie sehen immer blasser aus, auf den Bildern.)
The yarn is Regia Bamboo sock wool, very soft and shining in all colors of the rainbow. (I've tried a lot to capture the colors, but didn't manage to. They always look paler on the picture than irl.)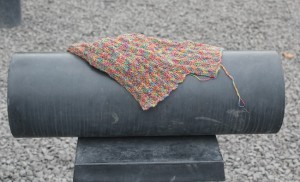 Das Garn habe ich ursprünglich mal von der jetzt Beschenkten bekommen. Dann fand ich es aber zu weich, um Socken draus zu stricken und mußte mich damit abfinden, daß mir diese Farben so gar nicht stehen… Also zurück an Absender, aber als Tuch. 😉
I got the yarn years ago from the receiver of the gift. But then I never could decide to make socks, because it is so soft. And I had to accept that those colors will never look good next to my face. So… return to sender, but with a transformation. 😉
Da das Garn die Struktur zum Verschwinden brachte, habe ich in die kraus rechts Rippen jede zehnte Reihe links getrickt und dadurch eine glatt rechts Rippe geschaffen, die das Muster gut zeigt.
The yarn did completely "eat" the structur of the pattern, so I changed every tenth row to a purl row, creating stockinette stripes in the garter stitch which show the pattern well now.
Jetzt muß ich mir nur überlegen, aus welchem Garn ich einen für mich stricke….
Now I have to decide which yarn to choose for my own wingspan…