Another Christmas present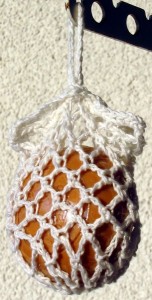 Noch ein Weihnachtsgeschenk habe ich genadelt und kann es nun zeigen.
Für die Freundin meines Bruders wollte ich noch eine Kleinigkeit machen und da kam mir 1-Knäuel Ideen zum Häkeln gerade recht. Von Bärbel ist da nämlich ein Set aus Waschhandschuh und Seifensäckchen drin.
Da ich aus Indien noch eine original Mysore Sandal Soap hatte kam mir das Seifensäckchen gerade recht.
Ich habe einen Rest Katia "Linen" genommen und noch einen glitzernden Faden mitlaufen lassen, den ich auch noch hatte. (Das sieht man auf dem Bild leider gar nicht.) Verbrauch war etwa 23m oder 10g, gebraucht habe ich etwa 1,5 Stunden.
Da mein Garn dünner als das angegebene im Buch war habe ich statt 8 Runden 12 gehäkelt, was nicht weiter schwierig war. Nur wie bei dem Gittermuster die Runden jeweils geschlossen werden fand ich etwas mysteriös und die Anleitung nicht so ganz klar. Aber irgendwie hat es geklappt. (Weitere Details auf Ravelry.)
Jedenfalls ein schnelles Projekt für einen kleinen Rest. Und es glitzert ganz edel, nur nicht auf dem Photo.
(Daß es mich eine Häkelnadel gekostet hat hatte ich ja schon geschrieben.)
There is another gift I can show now christmas is over. I wanted to make something small for my brothers girlfriend. I remembered the book about one skein crocheting ideas and found the soap saver from Bärbel, Since I also stil had a Mysore Sandal Soap from India this was perfect.
I used a restover "Linen" from Katia together with another very fine glittering thread I found in my stash. (Which does not show at all on the pic.) It took about 23m/10g of yarn and about 1.5 hours to make.
Since my yarn ist thinner than the suggested one I made 12 rounds instead of 8, that was not a problem. (For more details you can check on Ravelry.)
Finally a quick and small project that was easily finished in time for christmas.