Blue…
… war zumindest der Plan.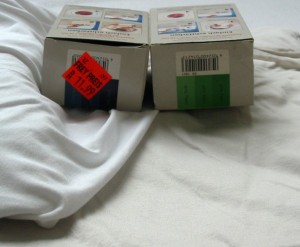 Nachdem der Sommer doch noch nicht da war und ich schon zwei Wochen in meinen Sommersachen gefröstelt hatte war klar, es muß wohl doch noch ein "Zwischendrin" Nachthemd her. (Myteriöserweise hat sich alles für diese Jahreszeit im Verlauf der letzten zwei Jahre simultan aufgelöst.)
Also eine prima Gelegenheit, mal ein paar Reste zu verbrauchen.
… that was the plan.
After feeling cold at night for about two weeks I decided I needed another nightgown for the transition period. (Winter nighties would have been to warm.) And for some mysterious reason most of my spring/autumn nightwear has given up more or less simultaneously over the last two years.
So a good possibility to use some of my stash.
Ich fand einen weißen (links) und einen sehr hellgrauen (rechts) Jersey, beide nicht genug für meine Pläne, aber zusammen sollte es reichen. Außerdem brachte Wühlen in einer anderen Kiste noch Simplicol-Echtfarbe zum Vorschein. Ein unbenutztes Päckchen in blau vom Freycenter in Cham. Und ja, das war noch zu DM-Zeiten. Der Rest Maigrün stammt von Kornbeck in Konstanz und ist keinen Deut jünger.
Alles zusammen in der Waschmaschine sollte zwei Stoffe in etwas unterschiedlichen aber zusammenpassenden Blautönen mit einem leicht grünen Einschlag geben Petrol vielleicht?
I found a white (left) and very light grey (right) jersey knit. None of them enough for my plans, but combining both should be enough. Digging in the cellar produced also some Simplicol textile dye. A unused packet in dark blue purchased at Frey Center in Cham, yes the currency is not EUR, it's Deutschmark, gone for quite some time… The other one, a rest in pea green from Kornbeck in Constance isn't any younger.
Bringing all that together in my washing machine should result in two fabrics that have different hues, but still fit together harmoniously. Dark blue with a bit of green might result in some teal maybe?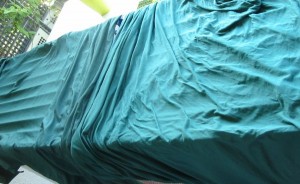 Tja, was rauskam war grün.
Gut, der "Rest" maigrün waren letztlich noch etwa 2/3 der Flasche, aber dennoch faszinierend, wie stark sich ein eigentlich helles grün gegen Dunkelblau durchsetzt.
Aber gut, für ein Nachthemd ist es egal.
Und obwohl ich sonst kaum grün trage… der leuchtendere Ton rechts steht mir sogar ganz gut…
Well… the result was very green.
Okay when I poured in the "rest" of the green I already noticed that it still was about 2/3 of the original amount, but still fascinationg that a rather clear green is so much stronger than a dark navy blue.
But for nightwear… who cares?
And even though I rarely wear green… the brighter one on the right looks even quite nice on me…