Second provisory….
Als ich 2009 das Sofa neu bezogen habe, hätte ich nicht gedacht, daß ich das noch mal mache. So lange sollte das Sofa eigentlich gar nicht mehr da sein. Aber wie das so ist… es ist noch da. Nur der neue Bezug war wieder durch. Die letzten zwei Jahre lag schon wieder eine Decke drüber. Das war aber auch kein Dauerzustand.
When I made a new cover for my sofa in 2009 I had never thought I would have to do that again. The sofa was not intended to live so much longer. But how live goes… it is still there. Just the new cover from 2009 was done. And for the last two years I had it covered with the old plaid. But that was not the most useful thing either.

Also habe ich mich wieder dran gemacht… Diesmal mit einem etwas festeren Möbelstoff mit mehr Kunstfaseranteil. (Von "Franck Ameublement" in Paris. Webseite haben die keine…) Außerdem habe ich den Stoff nicht nur längs auf das Vlies gesteppt, sondern auch quer. Wir lernen ja, ich denke ein Grund dafür, daß der letzte Bezug relativ schnell durch war lag daran, daß sich der Stoff noch recht großzügig gegenüber dem Vlies bewegen konnte.
So I did it again… This time with a fabric that is a bit firmer and has a higher content of polyester fiber. (From "Franck Ameublement" in Paris. No, they do not have a website…) Also I quilted the fabric lengthwise and widthwise on the batting. I am able to learn and I think one reason why the cover did not last that long was, that the fabric and the batting could move a lot against each other.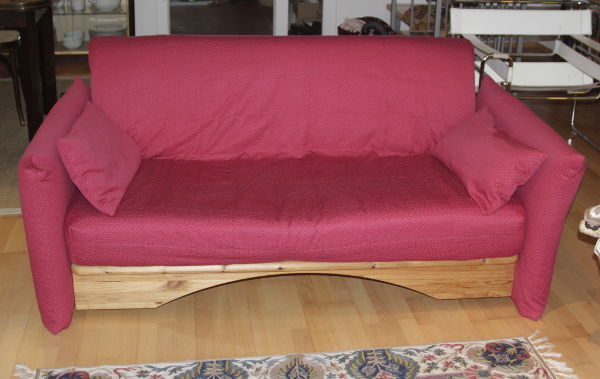 Jetzt ist das Sofa rot. 🙂 Diesmal inklusive der Seitenteile.
Now the sofa is red. 🙂 This time including the sides.
Ich habe noch eine zweite Verbesserung eingeführt: Es gibt einen festen Gummi, der den Bezug der Länge nach an der Unterseite spannt und zwei Gummis jeweils in Höhe der "Knickstellen" die das gleiche quer tun. Bisher hält das gut und ich muß den Bezug nicht immer wieder zurecht ziehen.
I added a second improvement: I attached firm elastic on the underside. One string goes lenghtwise and two strings go widthwise under the "folds" of the sofa. So the cover stays firm on the sofa and I do not have to rearrange it every day.