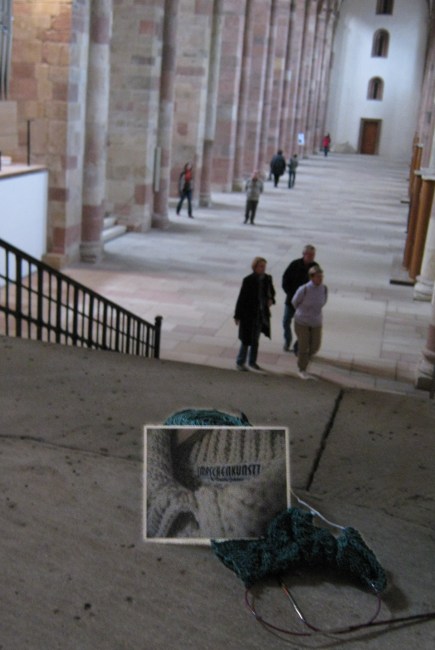 Auch wenn ich mit der Lace Stola immer noch nicht fertig bin, gibt es wieder etwas neues zu sehen.
My lace shawl isn't finished yet, but there is something new to see.
Diesmal war ich in Speyer und hatte kurz vorher aus dem Wollmeise Sockenwolle 80/20 Twin in der Farbe "Flaschenpost", das ich in der Maschenkunst erobert hatte eine Schal angeschlagen.
Die Anleitung stammt tatsächlich ganz altmodisch aus einem Buch, 101 Designer One-Skein Wonders und heißt "Marialis End-to-End Scarf".
I've travelled to Speyer and had started a new project just the day before. Yarn is "Sockenwolle 80/20 Twin" from Wollmeise which I managed to buy at Maschenkunst only some weeks ago. The color is called "Flaschenpost".
The pattern comes, very old fashioned, from a book. 101 Designer One-Skein Wonders is the title and the pattern is called "Marialis End-to-End Scarf".