Nein, ich bin es nicht.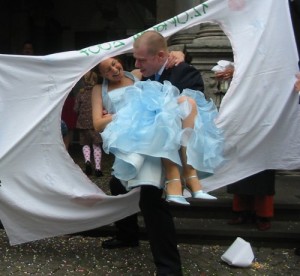 Aber der Kölner Nähbrunch gibt sich diesen Herbst redlich Mühe, unter die Haube zu kommen und (mit Erlaubnis des Brautpaars) einige Bilder vom Freitag in Köln: Kerstin und Hendrik.
Eigentlich hat das Thema gar nichts mit Nähen zu tun, denn die Braut fand ihr Traumkleid im Laden und hat es sich dort auf den Leib schneidern lassen.
Perfekt und eine wunderschöne, glamouröse Braut!
(Wenn es auf der Einladung nicht geheißen hätte "die Braut trägt himmelblau"… ich hätte sie wohl im Kölner Rathaus nicht erkannt. Und sonst kannte ich niemanden auf dieser Hochzeit.)
Und doch… es gibt einen Zusammenhang mit dem Nähen.
Ohne das gemeinsame Hobby Nähen, ohne das Hobbyschneiderin-Forum hätte ich Kerstin nie kennen gelernt.
Ohne das gemeinsame Hobby hätten wir nicht manchen Nähbrunch schwatzend in Köln oder nähend in Aachen erlebt.
Ohne das gemeinsame Hobby hätte Kerstin nicht so manchen (Mittwoch)Nachmittag an meinem Eßtisch oder auf meinem Sofa gesessen, gemeinsam nähend, beratend, gelegentlich gar strickend.
Und ohne das gemeinsame Hobby hätte ich nie die Gelegenheit gehabt, das verliebte Brautpaar und die wunderschöne Feier zu erleben!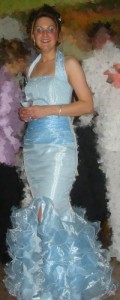 Und das wäre mehr als Schade gewesen… Nicht nur wegen des eleganten, sexy Kleides. 😉
Vielen Dank, Kerstin und Hendrik, daß ich mit euch feiern durfte. Und viel Spaß in Paris! (Danach wird sich Kerstin in ihrem Blog sicher auch wieder zu Wort melden.)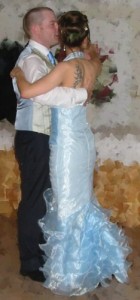 No, it's not me.
But several members of the "Kölner Nähbrunch" are getting married this autumn and here are some pics from last friday in Cologne: Kerstin and Hendrik. (Pics of course with Kerstins permission. She's on Honeymoon in Paris, she'll write again in her blog when she'll be back.)
This isn't even a sewing topic, because the dress was custom made, but not from her, neither from me, but bought in a shop.
And she was a perfect, beautiful and elegant bride!
But still… it has something to do with sewing.
Without sewing and without the Hobbyschneiderin-Website I would never have met Kerstin.
Without sewing we wouldn't have chatted at the Nähbrunch in Cologne and sewn together in Aachen.
Without sewing Kerstin had never spend her (Wednesday) afternoons at my place, sewing, chatting or even knitting.
And without sewing I'd never have had the possibility to share the experience of a couple very much in love and of a wonderful wedding!
And missing that would have been a pity. Not only for missing Kerstin in such an elegant and sexy dress!
Thank you Kerstin and Hendrik, for letting me share this day with you and your families!