Treat Stocking 2013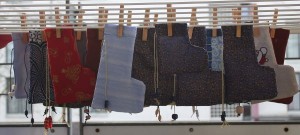 Dieses Jahr sind mir die Ideen für originelle Täschchen ausgegangen, deswegen gibt es langweilige Socken.
This year I ran out of ideas for my treat bags, so the traditional stocking shape had to do.
Immerhin ging es mal tatsächlich schnell und ich konnte alles aus Vorräten bestreiten: Eine Seite ist Weihnachtsstoff, eine Seite aus meiner Restekiste. Dazu Kordel und zwei Perlen an den Enden. Und… ich war tatsächlich im November damit fertig, weil es nicht nur schnell ging, sondern ich auch zeitig angefangen hatte.
On the plus side: They were really made quickly and I could do it entirely from stash. One side is fabric with Christmas themed print, the other side comes from my remnants bin. And I had finished all 20 of them in November because they were not only quick to make but I also started in time.