It's hopeless….
… auch nur zu versuchen, selbstmusternde Sockenwolle mit irgendeinem Muster zu versehen. Also außer dem vorgesehenen. (Was bei mir aber auch nie rauskommt.)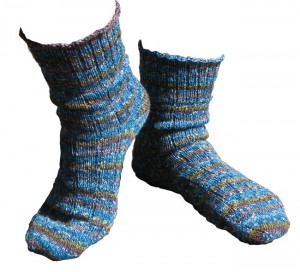 … to try to knit a pattern with self patterning sock wool Besides the pattern that is in the wool. (Which never turns out with me anyhow.)
Das Knäuel Regia "Tibet Color" von Schachenmayr nomotto habe ich irgendwann mal ertauscht. Das Blau gefällt mir auch sehr gut, die Gesamtkombination der Farben ist okay, aber das Muster hätte ich mir sparen können. Von dem erkennt man nichts.
I had one skein Regia "Tibet Color" from Schachenmayr nomotta which I got via a swap. I like the blue a lot, the other colors are okay also, but knitting the pattern was just senseless. You don't see anything of it.
Aber es ist ein paar passender Socken, die meine Füße warm halten werden. Nächsten Winter.
But it's a pair of comfy socks that will keep my feet warm. Next winter.
(Merken: Selbstmusternde Wolle weder kaufen noch eintauschen. Ich mag sie einfach nicht wirklich…)
(Note to self: Do not buy our swap selfpatterning wool. You don't like it…)
Und falls jemand in den letzten zwei Tagen Probleme hatte, den Blog zu lesen: Ein Motherboard auf dem Server war abgeschmiert und die Reparatur dauerte. Aber jetzt ist alles wieder gut. 🙂
In case you could not access this blog the last two days: It was not your problem, the server had had a bigger defect and some parts had to be replaced. But now everything is fine again. 🙂