Self bought…
… ist manchmal auch eine Lösung, wenn es mit dem Selbermachen aus Zeitgründen oder so hapert.
… can also be an option if self made does not work for time or other reasons.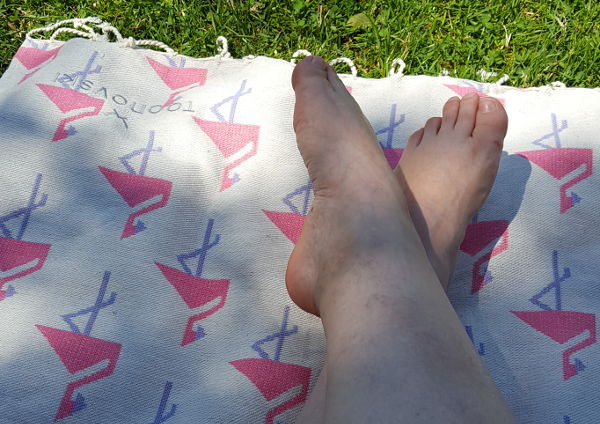 Und da sprang mich doch in einem Pop Up Store gegenüber vom BHV (Paris) dieser farbenfrohe Fouta von Toonovski an. Modernes Design, mir war gerade nach bunt und da es eine echte Jacquardwebung ist, hat man auf der Rückseite dann blaue-lila Flamingos auf pinkem Grund. Falls einem die Farbe dann gerade lieber ist. Die Designerin ist eine junge Französin, hergestellt werden die Foutas dann aber quasi stilgerecht in Tunesien.
So just a few days ago that cute Fouta in fresh colors jumped on me in a Pop Up Store just across BHV in Paris. Designed by a young french designer who has her own label as Toonovski. It's a real Jacquard weave so the colors an the back side are reversed, you get a deep pink background with blueish Flamingos. Designed in France, made in Tunisia, where Foutas come from.

(Foutas sind an sich tunesische Handtücher fürs Hammam. Baumwolle, saugfähig durch Zwirnung und Webart, gleichzeitg aber dick genug, um eine prima Picknickdecke abzugeben. Die sich dann aber klein in den Rucksack zusammenrollen lässt oder, wenn es Abends kalt wird, als Stola dienen kann. Natürlich kann man sie auch als Tischtuch, als Überdecke oder was auch immer verwenden. In Frankreich sind die Dinger schon seit einigen Jahren in Mode. Vielseitig verwendbar und nicht zu teuer. Und ich habe jetzt auch eines. 🙂 )
(If you don't know Foutas… they are from Tunesia, a cotton cloth used as towels in traditional Hammams. Due to twist of the yarn and weave it drys well, but is also thick enough to sit on it for a picknick. And you can roll it up quite small to pack it in your backpack afterwards. And if it gets a bit cold in the evening it will make a comfy shawl also. Of course you can use them also to decorate your house or your table. In France they are popular for quite a while, useful for many circumstances, and not too expensive. And I have one of my own now. 🙂 )