Protecting pants against wear without using interfacing
Ich habe bei Hosen ja immer ein Problem: Zwischen den Beinen scheuern sie sich bei mir schnell durch. Zu einem Zeitpunkt, wo der Rest der Hose noch top aussieht. Deswegen habe ich auch mehr Erfahrung mit Stopfen und Flicken von diesem Bereich, als mir lieb ist… und ich versuche, diesen Moment etwas herauszuzögern. Meine bewährte Technik besteht darin, auf den Zwickelbereich der Hinterhose G785 aufzubügeln. Das ist weich genug, um für keine seltsam steifen Stellen zu sorgen und hält die Fasern doch eine Weile zusammen. Die Technik hat allerdings auch Nachteile: Scheuerfest ist G785 nicht, besonders in ungefütterten Hosen hält das nicht lange und fühlt sich auch nicht so toll
auf der Haut an. Aber gut… man kann nicht alles haben.
There is one problem I am having with all kind of pants, slacks, trousers: Between the legs the fabric wears through in no time. At a moment when the rest of the garment still looks great. So I have more experience with repairing and darning that part of pants than I'd like to have… and I try to make this moment come as late as possible. My standard technique is ironing a piece of G785 on the back pants at the most endangered position. It's soft enough not to create strange stiff shapes yet keeps the fibers together for a while. though there are disadvantages: G785 is not very resistant against rubbing so especially in unlined pants it does not last long. And doesn't feel to great on the skin. But… well… to live means to make compromises.
Ein weiterer Nachteil kam aber kürzlich zum Tragen: Zum Aufbügeln braucht man Dampf. Meine Bügelstation heizt zwar noch, sowohl Eisen als auch Brett, nur der Kessel hat es hinter sich. Da dampft nichts mehr. Und mein Stoff ist ein Viscose-Polyestergemisch mit Elasthan, das hält erfahrungsgemäß besonders kurz.
Yet another disadvantage appeared recently: You need a steam iron to apply it. My ironing station does still heat nicely the iron, but no longer the steam unit. Steam over. And my fabric is a viscose-poly-elasthane blend, a combination that normally lasts only for a very short time.
Deswegen mußte ich mir was anderes einfallen lassen und das zeige ich heute.
Though I had to come up with something else, what I will show you today.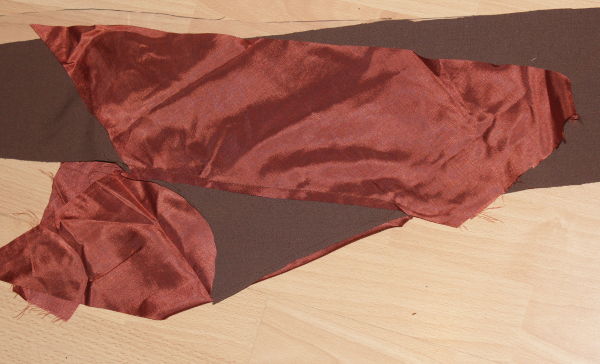 Zunächst habe ich aus einem Rest Futterstoff (Venezia) einen breiten Streifen im Schrägfadenlauf zugeschnitten. Ich brauchte wenigstens 25cm länge, als Breite habe ich einfach 15cm genommen. So breit ist mein Patchworklineal.  Der Streifen wird auf die linke Seite der Hinterhose genäht, Ungefähr da, wo ich sonst bei Reparaturen den neuen Stoff ansetze.
First I've picket some remnants of lining fabric (Venezia) and cut a wide stripe on the true bias. I needed it at least 25cm long and cut it 15 cm wide. That's the width of my omnigrid ruler. The piece of fabric is sewn to the left side of the back pants. Guessing the line where I usually have to cut the fabric for repairing the pants.

Dann wird die Naht flachgebügelt und der Futterstreifen über den Zwickelteil der Hose geklappt. Links im Bild die linke Stoffseite, rechts die rechte Stoffseite. (Bild anklicken bringt eine größere Version…)
Now pressing the seam flat and then fold the lining fabric over to the gusset part of the pants. Left picture is the left side of fabric, right picture the right side. (Click on the pic to get the bigger version…)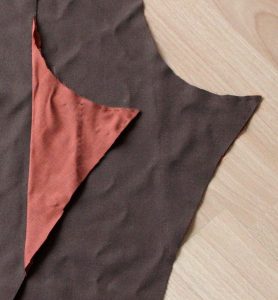 Damit sich die Stofflagen nicht so sehr gegeneinander verschieben (was die Reibung nur vergrößert) habe ich in 5cm Abstand zur Naht den Futterstoff noch mal unsichtbar aufstaffiert. Das ist etwas mühsam, weil man bei jedem Stich gucken muß, ob die Nadel wirklich nicht zu sehen ist, aber es sind nur wenige Stiche, also zu verkraften.
To prevent the two layers of fabric from shifting (which is just another form of rubbing) I've sewn a line of handstitches, invisible from the right side. That's a bit tedious because I had to check for each stitch that the needle did not show on the right side before pulling the needle through. But it were only a few stitches, so it was doable.
An der Spitze habe ich den Futterstoff dann einfach mit einigen Stichen auf der Nathzugabe festgeheftet (Die bleiben dann auch drin.) und danach den überschüssigen Futterstoff abgeschnitten. Auf der rechten Seite sieht man nur die Steppnaht, die bei der getragenen Hose aber zwischen den Beinen verschwindet.
I also basted the corner of the gusset part to the lining fabric. On the seam allowance, so I won't have to take out the stitches later. And the I cut of the rest of the lining fabric. On the right side only one line of stitching is visible, but not when worn, because that part is between the legs.
Die Hose wird dann ganz normal fertig genäht. Wie gut es hält werden die nächsten Monate zeigen.
Then the pants get sewn normally. If the technique  is a success I'll know in a few months.